How Fallout 4 Almost Ended A Gamer's Life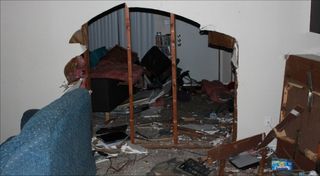 Playing games is dangerous business. I don't mean the dangers of the virtual world where usually some giant monster from a distant, post-nuclear future is trying to squash you into the ground and eat you for a mid-day snack. I'm talking about real life, where a car came barreling through a wall and nearly killed a gamer while he was playing Fallout 4.
According to the CBS DFW, a certain Ben Rose almost lost his life while playing Bethesda Software's Fallout 4 in the comfort of his apartment when a small Sedan came right through his wall.
Roses attributes his "gaming chair" for saving his life by taking most of the damage and moving out of the way as it absorbed the impact. Since the chair rolls around, Rose states that it moved enough with the car busting through the wall to get him out of the way from being rolled over.
However, despite getting out of the immediate way of danger, Ben Rose was still subjected to some serious injuries to his Vertebrae and his Achilles tendon. After surviving the accident, he's wearing a brace around his upper chest as well as a brace for his left leg.
The damages Rose incurred to his apartment have also been fairly significant. He states that it will cost more than two months' worth of his salary to repair the damage. But not all is lost. There are those willing contribute funds to help repair Rose's apartment and cover the expenses of the damage made to his living quarters.
According to GameRanx there's a GoFundMe page up at the moment for Ben Rose where Bethesda Software's VP of marketing, Pete Hines, has donated a total of $4,000 on behalf of the company that made Fallout 4. Bethesda may not be responsible for what happened, but they are still being generous regardless.
The GoFundMe page has managed to accrue nearly $13,000 at the time of the writing of this article. The page creators are trying to raise enough to not only pay for the damages, but also for Rose's medical therapy. The driver of the Sedan did not have insurance so all expenses fall on Rose.
There's still an element of lifted spirits given that the GoFundMe page jokes about Ben Rose having several points in "Toughness" to have endured the crash and survived. Toughness is a skill trait in Fallout 4 that raises a character's ability to withstand damage from enemies.
It appears as if a lot of people are being generous when donating to the cause. The fact that this was attached to one of the biggest selling games of the past year helped make the news spread fast. Bethesda shipped 12 million units of Fallout 4 for the Xbox One, PS4 and PC in the first week of release, and it has gone on to become one of the biggest selling entertainment properties this year.
Indeed, it's hopeful to see that many gamers are coming out of the woodwork to support the fellow gamer who could have lost his life.
Staff Writer at CinemaBlend.
Your Daily Blend of Entertainment News
Thank you for signing up to CinemaBlend. You will receive a verification email shortly.
There was a problem. Please refresh the page and try again.