How To Stream PC Media To Your PS4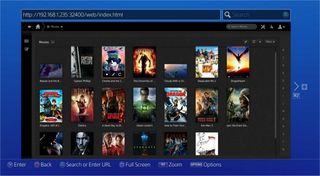 One of the big features that helped usher in the seventh generation consoles was cross-platform media support. It was a pretty awesome feature, enabling your PC to talk to your home console; or having your cell phone or other handheld mobile device stream content to your home network, which would then make that content available for your home console. Well, it's no longer a hop-skip-and-a-jump to get those same features working for the PS4 and Xbox One, but thankfully there are ways to work around the new-gen barriers.
Wololo.net has a pretty thorough walkthrough guide for setting up and getting some form of DLNA communication between your PC and your PS4.
So you'll need either a laptop or PC. Download the Plex media app center from the official website (opens in new tab). Install the app. Run the app. Setup an account.
Majority of that should be pretty straightforward and simple to accomplish.
Once you're logged into Plex, begin adding the media that you want streamed from your PC to your PS4, including movies and videos of various file types.
Make sure that names are properly configured. Wololo suggests using the XBMC standard naming convention.
It's time to test to see if your local server is setup. While logged into Plex, simply copy and paste the following into a new browser window to ensure that Plex is working as intended: 127.0.0.1:32400/
Once that's all done, you're basically finished doing things on the side of the PC. It's now time to work with the PlayStation 4.
Turn on your PlayStation 4 and open up the browser. Now what you're going to need to do is is type your IP address into the browser address bar followed by '/web.'
If you don't know your IP address, simply right click on the internet icon on the bottom right hand corner of the Windows' screen and click on "Open network and sharing center". You can also access this menu from within Control Panel. Click on "Change Adapter Settings" and then double click the active internet icon. From there click on the "Details" tab and you'll see your IP address under the IPv4 line.
Type your IP address into the browser address on your PS4, so it should look something like this, for example: 192.168.1.101: 3200/web.
It should bring you to your Plex app with your media loaded up and ready to be played.
If you have any trouble accessing your movie or media files, Wololo suggests getting a movie or media converter and converting your files into MP4 format. This should help the PS4 read the files quite readily. They do note, however, that following firmware update 1.70, you may need to modify the settings for AAC audio. You'll find it in settings, under web, then player and then show advanced.
If it works as intended, you should be able to view home media from your PC or other connected devices using the Plex web app as a local server host.
If you have an Xbox One and you want to setup some small form of DLNA support, you can check out our guide right here. You can also find other guides for using your PS4 controller on PS3 right here or using your Xbox One controller on PC, right here.
Your Daily Blend of Entertainment News
Staff Writer at CinemaBlend.
Your Daily Blend of Entertainment News
Thank you for signing up to CinemaBlend. You will receive a verification email shortly.
There was a problem. Please refresh the page and try again.