How Uncharted 4 DLC Is Inspired By Last Of Us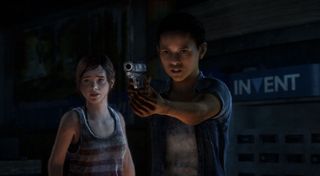 Naughty Dog already has plans to exercise ideas with the single-player story in Uncharted 4. They plan on taking what they've learned from the Left Behind DLC prequel campaign for The Last of Us and apply that to the DLC for Nathan Drake's final adventure on the PS4.
Powerup Gaming did a write-up on some snippets taken from an interview with Naughty Dog writer Josh Scherr in the Official PlayStation Magazine, where Scherr discusses how working on The Last of Us helped the team cope with doing single-player oriented story content.
Scherr mentions that they were making a big game on a "small scale" and despite having the restrictions of being a prequel, they also took some big risks with the gameplay, including elements and sections that were not present in the main game of The Last of Us.
Scherr mentions that the experimental elements of the game, such as the multi-choice dialogue sequences, non-combat sequences and other diverging gameplay elements "resonated" well enough with gamers that they may try their hand at them again with the story DLC of Uncharted 4. According to Scherr...
I'm sure some people are already worried about a developer talking about DLC well ahead of the main game being finished, but so long as it's not one of those things where the DLC is well and finished ahead of the main game, and the main game is full of bugs, then I think it's okay. Planning for DLC and mulling around ideas for expanding the content works so long as it's actual expansion material and not just something culled from the main gameplay experience, like the mini-games and content removed from Assassin's Creed 2 that was resold back to customers as DLC.
The whole topic of discussing DLC for $60 AAA games usually gets touchy because there have been more than several occasions where it was revealed that the content was in fact on-disc DLC and the only thing players needed to do was download an access key to unlock that content. The long rumored myth about publishers forcing developers to hack off some of the content like a slice of salami and sell it back to the player as a brand new sandwich was proven to be true on a couple of occasions.
In the case of Naughty Dog, they've been very good at being honest and forthright about the DLC included in their games. They're one of the few AAA developers who have not been embroiled in any DLC scandals and they manage to churn out high-quality, Hollywood-worthy games each and every time around. It's a rare breed of great content, great storytelling, great production values and the inclusion of buy-worthy DLC.
Uncharted 4 is due to release on the PlayStation 4, exclusively, starting March 18th, 2016.
Staff Writer at CinemaBlend.
Your Daily Blend of Entertainment News
Thank you for signing up to CinemaBlend. You will receive a verification email shortly.
There was a problem. Please refresh the page and try again.