IGG Interview: 2029 Online Is Like Diablo And WoW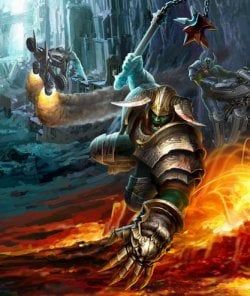 For those of you who frequent our site, you may have noticed that there's always something here posted about 2029 Online, the upcoming MMO, RTS, RPG, dungeon crawling action game. Before the game officially starts its alpha-test, we thought we would ask the Product Manager for IGG's MMO, Edwin Huang, a few questions about the game first.
Blend Games: Based on what has been shown in the screenshots, 2029 Online looks a little bit like Dark Eden Online, gameplay wise. Insofar of the actual gameplay, does 2029 Online share any of the gameplay likenesses of Dark Eden?
2029 Online: Actually, Dark Eden Online is a MMO based on a vampire story. 2029 Online is a Sci-fi based MMO. The storyline in Dark Eden Online is about vampires engaged in enslaving all humans, while 2029 Online is about the conflicts between races representing a highly industrialized culture. As for the computer graphics style and views, its 3D computer graphic techniques are adopted to deliver the playing environment closer to reality than Dark Eden Online. What's more, it is just a mix of Diablo and World of Warcraft. So, as you said, players who enjoy grabbing up tons of items and weapons, customizing their player and staying engaged with hours of dungeon crawling quests, 2029 Online just might be your kind of game.
Blend Games: In some of the press sheets we've been informed that the game will feature RTS elements. Exactly how will it work and how much control will players have with commanding units and resources?
2029 Online: Well, the RTS elements make the combats in 2029 Online the most realistic, tactical and operational product, to simulate the circumstances of real time operational warfare and military tactics. The fun of RPG and the intensity of RTS are well blended in combat, which will help the player reap more engaging fun when playing this game.
Players can make decisions about the race and profession of their characters. Also the Refinery system and Corsair DIY in the game will allow our players to possess their dream gear and corsair.
Blend Games: It's mentioned in the press releases that 2029 Online will feature the option to attack other player cities and resources. Does this mean that there can be as many cities as there are guilds?
2029 Online: Not actually, in the game, players can attack cities that have been taken possession of by other players. But it does not mean we have the same number of guilds and cities. Only limited cities in the game are available for attack and control. Guilds can make applications to take part in siege war fare without any limits on their membership numbers, which also means that only the best guilds can win. Players from the defeated guilds must do their best to make their guilds become prosperous once more and help them to stand out in the next siege war fare.
Blend Games: Leveling up skills and grinding has always been an important part of the MMO model. Often times, though, the grinding can become tedious and boring. What is being done to ensure that level grinding is both fun and challenging?
2029 Online: Exactly, it is really an important part. In 2029 Online, it is easy for players to hit level 10. When beginners start out their game play, the system will give them hints to complete their quests. Players will develop their character by completing these quests. When they hit level 15, their further character progress will become much harder and slower. Quests in the game are designed to give players fun playing hours. Players will receive prizes for completion of quests. All main quests will push players closer to the final chapter of plots against them and the best adrenalin pumping adventures. If players are not qualified to enter the higher level maps; then the main quests will not be available for them.
Besides, these action packed mainline quests, players are also given some hot rhymes and racy actions by taking part in our branch quests and quests triggered by random events. We help our players to calculate how many quests they have completed via our Quest Count. They can check their quest completion process by toggling on the function of Track. If they are in a team, they can share quests with their teammates.
Blend Games: What are some of the skills players can learn and how many skills are expected to make the final cut of the game?
2029 Online: In the game, each race will have four types of skills available for players to learn. For example, players with a Human character can learn: Gun, Assistant skills, Grenade and Rifle; Players with an E. Elf character can learn: Fire, Electricity, Magic and Ice. And, players with a Dryad character can learn: Fistfight, Assistant skills, poison and cannon. For each of the Dryad characters, they can not only use cannon to wipe out their enemies but also a sword to chop their enemies' heads off. So, they can get access to various skills. Maybe, there are more skills as the development. So, just let's wait. Our team will not let you down.
Blend Games: The Armored Fighting Vehicle is an integral part of the game, it seems. Do these vehicles only support one player, or are there vehicles that can house multiple players at once?
2029 Online: Yeah. The Armored Fight Vehicles are also called Corsair in the game. Corsairs play an important role in players' gaming experience. Only one player can ride on each Corsair. If players are in a team, they can select one player to lead them and take control of all of their Corsairs. It's pretty cool to hang around with a fleet of showy Corsairs.
Blend Games: While we're on subject of the AFVs…How many different vehicle parts and vehicles will players have access to?
2029 Online: AFV is really cool thing. Isn't it? In 2029 Online, players assuming different roles at different levels in the game will have diversified options for Corsairs. To begin with, we will give our players a low level Corsair. Players will be granted limited access to power up their Corsairs. When players are at a higher level, they will receive much cooler Corsairs. Players can customize their Corsairs by adding little gadgets to upgrade their attack power, defensive force or movement speed. These little gadgets like Corsairs can be upgraded to add to the overall power. As for players who enjoy the thrill of racing, then the racing system is just waiting for them to take it for a spin.
Blend Games: How many players can join on a team and how many players can do battle in the PvP areas?
2029 Online: Err, only six players are allowed in a team. But there are no limits to players' population in PVP arenas, in this way we can enable more players to go straight into the thrilling massive PVP combats against overwhelming odds. It is better for them to team up and fight against players from the opposing realms. The teams who win all PVP combats must be teams formed by players of different races, each of whom is of high team spirit. I want to make it clear to our players that they can't view mini maps in the PVP arenas. The best bet for them is to be familiar with the map before entering the combat zone, which will help them to avoid any unnecessary losses. We recommend that all of our players take part in PVP once they have hit the higher levels.
Blend Games: We're looking forward to playing 2029 Online here at Blend Games. Did you have anything else you would want gamers to know about 2029 Online before the alpha test begins?
2029 Online: The first official Beta for 2029 Online will be released on March 17th. Bugs in the Alpha version will be fixed before the launch of Beta version; where new maps and tougher Bosses will be waiting for our players.
We appreciate the concern and detail you paid to our game and are happy to find that so many players are giving us such positive feedback about this game. The Alpha version will be out for testing purposes in middle of March. We have been holding many events (http://forum.2029.igg.com/viewthread.php?tid=234&extra=page%3D1) to give out more Alpha Keys.
Events posted there are for players to participate in and win Alpha Keys. We recommend players log into our official site for more game info before receiving an Alpha Key.
We also want to suggest our testers have a basic understanding about the overall story, race info, maps, newbie guides and features in the game to gain a better start. We are waiting for testing it with all players.
At last, we should say thanks you for Cinemablend.com's kind interview.
Image 1 of 4
Your Daily Blend of Entertainment News