InFamous: Second Son Digital Download Size Revealed For PS4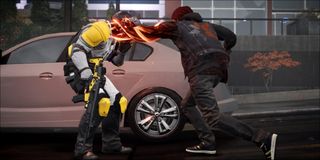 The time is drawing near for the PlayStation 4's first AAA exclusive title to launch this March. The game will be competing in sales against Titanfall, which is set for release on the Xbox 360, PC and Xbox One.
PlayStation Lifestyle caught wind of the digital download size for the upcoming title on the PS4 courtesy of the European PlayStation Blog, and the game will only take up 24 gigabytes of data. That's big, no doubt, but somewhat reasonable for a triple A title.
As noted on PlayStation Lifestyle, the game could be slightly smaller for those getting the game in North America given that there will be fewer language options, so I don't know exactly how much smaller the language option will make the file but just a bit less than 24GB is what PS Lifestyle estimates.
For an open-world game that's a bit tiny, but somewhat understandable given that you won't be driving vehicles and you won't have to worry about everything that comes along with vehicular operations.
The most important thing, though, is whether or not inFamous: Second Son will maintain its resolution and frame rate. As revealed back in November of 2013, via PlayStation Lifestyle, inFamous: Second Son will run at a locked 30fps at native 1080p. This definitely gives a huge leg up over Titanfall, which is expected to be relegated at 900p at retail for the Xbox One. The only thing that Titanfall will have over its console competitor is that it will run at 60fps. However, given all the judder that the game suffered during hot and heavy moments on the Xbox One – almost as if the console suffered from Parkinson disease – I wouldn't be surprised if Respawn settled with native 720p just to keep the frame rate from dipping to a minimum.
The only thing inFamous: Second Son needs to lock down and lock down hard is the AI. I previously wrote about how the game suffered some pretty atrocious AI during the CES demonstration, and Sucker Punch is going to want to ensure that the game offers the proper kind of challenge that gamers are looking for, and not just another Call of Duty with super-powers kind of affair. I mean, we all know just how brain-dead the AI is in Titanfall. In fact, any gamer who isn't playing blindfolded with one hand tied behind their back won't have any problems dispatching the baddies in Respawn's upcoming shooter.
There's no mention of pre-loading so far but the game is set to drop at the end of the month, just a couple of weeks after EA drops Titanfall. I get the feeling that it's going to take all the combined sales of Titanfall to stack up against inFamous: Second Son on the PS4, because we all know the Xbox One doesn't have the install base balls to compete head-to-head in software sales.
Your Daily Blend of Entertainment News
Staff Writer at CinemaBlend.