Killing Floor Devs' Upcoming Game Will Natively Support SteamOS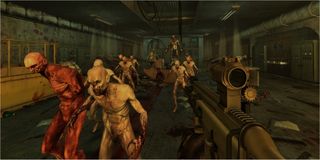 Tripwire Interactive may not be on the lips of gamers as often as other development companies during heated conversations about first-person shooters and wave-based survival games, but they definitely deserve whatever praise they receive. The small team has found a fair bit of success with games like Killing Floor and Red Orchestra 2. Well, that "fair bit of success" could fold over several times, as they've announced that they will be supporting Valve's new SteamOS and adding support for their current games as well as their upcoming, unannounced title.
In an interview with PC Gamer, Tripwire president John Gibson had nothing but praise to share on Valve's new OS as well as an air of support for the upcoming OS...
This is great news for PC gamers who have been worried about SteamOS support for current and upcoming titles. One of the biggest issues has been whether or not it would receive the appropriate amount of support it needs to survive against the harsh tide brought forth by Microsoft's own Windows OS.
Gibson also shares some concerns about supporting multiple OS platforms for their games, noting that graphical support for OpenGL and DirectX support could prove to be tricky, but not as tricky as going from native keyboard and mouse to native keyboard, mouse and controller support, saying...
Actually, I would love to play Killing Floor or Red Orchestra with the Steam controller. The thing is just begging to be played with a console-style game that requires mouse-equivalent precision aiming and gameplay reactions. So it would be awesome to see how the Steam controller works out in that scenario. My only real concern with using the Steam controller would be the sensitivity, and how well it will be able to appropriately emulate the various degrees motion tracking across the pad.
Anyway, Tripwire is another developer to join the ranks in supporting SteamOS, alongside Paradox Interactive. That's not bad – Valve being able to recruit the forces of two fairly recognized PC-exclusive content providers shortly after announcing their new OS, the Steam Machines and the Steam controller. Now for the hard part: the long wait for 2014.
Staff Writer at CinemaBlend.
Your Daily Blend of Entertainment News
Thank you for signing up to CinemaBlend. You will receive a verification email shortly.
There was a problem. Please refresh the page and try again.