Steam Machines Officially Announced; Valve Seeks Beta Testers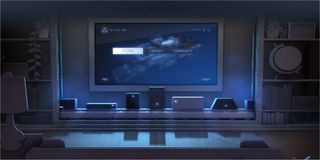 Valve has made the Steam Box official and they're calling them Steam Machines: they have proprietary hardware on the way that will be derived from a base set of performance and hardware configurations. The Steam Box/Machine variants will be available at different price ranges for gamers who want to go high-end or low-end and Valve needs your help in testing the prototypes.
When we mentioned earlier this year that Valve had been testing prototypes, we didn't know that it was so that they could eventually allow you to test those prototypes. Yes, 300 lucky gamers will be able to play-test the various Steam Box hardware setups that will run Valve's own SteamOS. Move over OUYA, I think Valve just brought the nail for your coffin.
The news comes courtesy of Valve's official Living Room website, where they roll out the details for their three-pronged plan for a living room PC-console solution.
I also just realized that "Steam Machines" is a nice way of throwing us back to the industrial age of steam-powered mechanics. Anyway, the Steam Machine will be designed to take full advantage of the SteamOS and the Big Picture Mode, which has practically been perfected over the course of the year. Valve's master plan is coming along nicely, now all they have to do is finish it up with an announcement for a huge IP to launch with the Steam Machine to help bolster sales and get people buying and installing the SteamOS.
Also – and I know what I'm about to say will piss a lot of people off – but if they make Half-Life 3 or Portal 3 or some new IP, they need to make it SteamOS exclusive. Force people to install and use their OS the way Microsoft forces people to install and use their OS for stuff like Office and DirectX. Move the torrent by brute-forcing allegiance, it's the only way to get a nice solid install base, identical to what they did with Half-Life 2 and Steam.
Now for those of you worried about SteamOS support and playing older games, remember you can still stream all Windows-based games from your desktop. As for newer games – and I'm hoping Valve also pushes for a few Linux exclusives in this process as well – all hope is not lost because Nvidia and AMD have reportedly ramped up their driver support for Linux following the announcement of the SteamOS, according to a report by PCWorld. What this means is, is that the biggest GPU providers are on board with Valve's rebellion against the great big Microsoft Windows OS.
Anyway, I'm sure no one cares about OS politics and software turf wars. While market share will ultimately decide the success of Valve's Steam Machines (and that's a fun thing to write out) the games are the only thing gamers care about. So let's get to the part about how you can join Valve in play-testing the prototypes of the Steam Machines.
So here's how you can register to beta test a Steam Machine.
Before October 25, log in to Steam and then visit your quest page to track your current status towards beta test eligibility
1. Join the Steam Universe community group
2. Agree to the Steam Hardware Beta Terms and Conditions
3. Make 10 Steam friends (if you haven't already)
4. Create a public Steam Community profile (if you haven't already)
5. Play a game using a gamepad in Big Picture mode
Valve's Steam Machine will launch in 2014 with the SteamOS. Various hardware manufacturers will be providing their own competitively priced Steam Machines as well, which technically will be competing against market share with the PS4, Xbox One and Wii U. Things just got a whole lot more interesting.
The big news for the week isn't over with yet. Valve still has one final announcement that features two icons, meaning that it's probably a dual announcement of sorts. If I had to hazard a guess, I would say Source 2 and an exclusive launch IP for the SteamOS. We'll find out in two days.
Staff Writer at CinemaBlend.
Your Daily Blend of Entertainment News
Thank you for signing up to CinemaBlend. You will receive a verification email shortly.
There was a problem. Please refresh the page and try again.