Kingdoms Of Amalur: Reckoning Trailer Discovers A Whole New World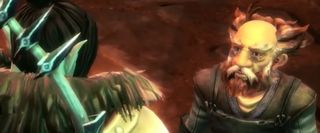 One of the biggest aspects of an RPG to keep things interesting and fun is the world. A large, expansive world gives players room to enhance their character, advance their skills and make a mark in the fictional universe created by the developers. In the latest promotional video for EA, 38 Studios and Big Huge Games' upcoming RPG, Kingdoms of Amalur: Reckoning, it focuses entirely on the game world that players will be able to venture throughout and how choices and quests can shape and mold more than just the created hero.
EA is capitalizing on the RPG market right now coming off huge successes such as Bethesda's Elder Scrolls V: Skyrim and their own published title from BioWare Studios, Dragon Age 2. Kingdoms of Amalur is aimed at the same demographic, however, based on the promotional efforts it appears to be slightly more hardcore than Dragon Age 2, which pleased critics (unsurprisingly) but didn't hit it off quite as well with core RPG fans. You can check out the trailer below for Reckoning, which definitely looks like a lot of fun.
It's hard to tell at this point exactly how free the game world is but it should suffice to say that several major cities, dungeons, a genuinely robust combat system and an art-style from Todd McFarlane should be enough to keep gamers coming back for more.
You can look for Kingdoms of Amalur: Reckoning to launch on February 7th for the Xbox 360, PS3 and PC. If you're curious about how the game plays out be sure to check out the free demo, which is available right now on Xbox Live and the PlayStation Network. For further information on the game feel free to visit the Official Website.
Staff Writer at CinemaBlend.
Your Daily Blend of Entertainment News
Thank you for signing up to CinemaBlend. You will receive a verification email shortly.
There was a problem. Please refresh the page and try again.