Is The Last Guardian Cancelled?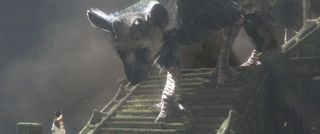 Team Ico's long-delayed PS3 exclusive The Last Guardian may never be finished. Earlier this week, Sony abandoned the trademark for the game's title.
Sony held the trademark since June 2009, around the time that the first trailer debuted. The trademark was officially dropped on August 6th. No additional details were provided.
The Last Guardian was first announced for a late 2011 release. However, in April of that year, director/designer Fumito Ueda announced they were pushing the game to 2012 in order to make the game "more challenging" and "better quality." In November, Ueda left Sony to pursue personal projects. He's still serving as a consultant on Guardian but his departure did not seem like a good omen.
In Guardian, a boy teams up with a massive beast named Trico in an attempt to escape a ruined castle. The player controls the boy and must work with Trico to get past the castle's various hazards. Trico is an instinct-driven A.I. so it's up to the player to figure out how to guide the beast into doing what he wants.
Considering how long Guardian's development has been, it would not be altogether surprising if Sony pulled the plug on it. The game's atypical premise, which doesn't fit neatly into established genres, doesn't help its chance among the bean counters. You'd hope that Team Ico's street cred, built up by PS2 classics like Ico and Shadow of the Colossus, would be enough to stave off the death of Guardian but who knows. Guardian would be far from the first game to be unfairly cancelled.
It's worth pointing out, though, that Sony's abandonment of the trademark doesn't necessarily mean the game's been killed. It's possible that they're just changing the name of the project. Or maybe they just pooched the paperwork and didn't mean to drop the trademark. Hopefully Sony will explain the status of Guardian soon.
Your Daily Blend of Entertainment News
Staff Writer at CinemaBlend.