Lawsuit Alleges EA Artificially Raised Their Stock Price On Battlefield 4 Hype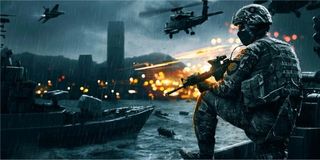 Hype. We love hype. Gamers... we live on hype. While we claim that hype needs to go away, and that it ruins a game, we still love it. It's what fueled the success of DayZ, it's what continues to fuel the success of Call of Duty and it's also what helped fuel EA's own success with their stock price thanks to Battlefield 4.
Game Informer caught wind of the latest news regarding a second potential lawsuit against Electronic Arts regarding security exchange fraud. The latest plaintiff from Robbins Geller Rudman & Dowd LLP, states [via Business Wire] that...
Well that doesn't seem to bode very well for the electronic software publishing giant.
This spawned mostly due to a setback that occurred with the DLC for Battlefield 4. The extra content was delayed in order for DICE to address more pressing bugs and glitches, ensuring that the game – across all platforms – performs the way it's supposed to.
The delay of the DLC, however, prompted a lot of anger from investors because it eats into potential revenue from the game, which in turn, will affect the market valuation of EA's stock. Investors don't care whether or not the game works, but they definitely care if projected sales will be affected or if they do get affected without a forewarning.
Unlike gamers, though, investors don't have to take to message boards, chat rooms or social media to belabor the point across to the publisher... they just sue.
However, Electronic Arts isn't sitting by idly, waiting for the sue-hammer to drop. According to Gamespot, a representative for EA came forward with the following message...
Well EA sure does seem confident. They'll definitely need that kind of gumption if either or both lawsuits move forward. This will be an interesting bit of news to watch that's for sure... assuming it doesn't fizzle out like the lawsuit against Sega and Gearbox Software over the Aliens: Colonial Marines debacle.
Staff Writer at CinemaBlend.
Your Daily Blend of Entertainment News
Thank you for signing up to CinemaBlend. You will receive a verification email shortly.
There was a problem. Please refresh the page and try again.