Logitech G710+ Mechanical Gaming Keyboard Announced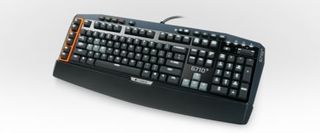 Logitech has announced their newest addition to the G-Series of gaming peripherals, offering gamers a high-end gaming experience with the new mechanical keyboard. The Logitech G710+ is expected to launch soon and will carry a $149.99 price tag with it.
Mark Starrett, senior global product manager for Logitech commented in the press release about the new keyboard, saying...
With an actuation force of 45g and a distance of 4mm, the G710+ has rapid key response, anti-ghosting and all the workings and necessary customizable button features so you can macro your way to victory in MMOs, MOBAs, FPS games and everything else in between.
One of the other neat features is the backlit design in white LEDs, enabling you to play at night without worrying about miss-pressing a key due to a poor design. The 26-key rollover also helps with executing combos and complex key presses with ease.
NYJacky from Team Curse commented about his affability with the new keyboard, saying...
Really? Never think about using anything else? Even if BMW made a keyboard that was as cool as that M10 Mouse? I'm sure someone would be singing a different tune if a high-performance peripheral from Thermaltake was slipped his way.
Anyway, you can pre-order the Logitech G710+ Gaming Keyboard right now from Logitech's Official Website. If you're a skeptical Sam then you'll probably want to wait for a thorough review before you make the financial plunge.
Staff Writer at CinemaBlend.
Your Daily Blend of Entertainment News
Thank you for signing up to CinemaBlend. You will receive a verification email shortly.
There was a problem. Please refresh the page and try again.