Lord of the Rings: War in the North Shipping With Two Challenge Maps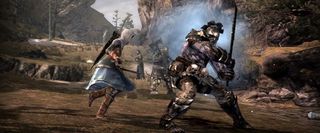 Snowblind Studios planned to give pre-order customers of action RPG Lord of the Rings: War in the North two free challenge maps. However, now they've decided to include it on the game disc itself.
The Osgiliath and Lorien challenge maps are arena-style encounters in which you battle waves of enemies. Osgiliath is designed for level 4-16 characters, while Lorien is a more advanced level 11-22 challenge. You'll be able to unlock these maps once you've reached the second "hub" area of the campaign. Once unlocked, these maps can be accessed at any time through the world map.
"Challenge maps are a great way to get bonus XP, loot, coins and achievements!" says Starbreeze. "Upon completing each of the challenge maps you will get a lump sum XP bonus on top of any bonuses you got along the way!"
"You can use the Fellowship symbol located in either of the challenge maps to return to town any time during the challenge should you choose to exit, so you won't have to lose your place in the story, either."
War in the North allows players to experience a story set in the back-drop of the main Lord of the Rings trilogy plot. They can choose to control one of three different characters - a human, elf, and a dwarf - and upgrade them to their liking over time. The game can be played in single-player or co-op.
North will arrive in the first week of November on the PS3, PC, and Xbox 360.
Staff Writer at CinemaBlend.
Your Daily Blend of Entertainment News
Thank you for signing up to CinemaBlend. You will receive a verification email shortly.
There was a problem. Please refresh the page and try again.