Lost Planet 2 May Include Split-Screen Co-Op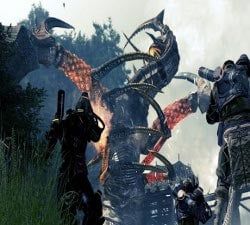 Lost Planet 2, the anticipated sequel to Capcom's icy-futuristic shooter, Lost Planet, will be released in December of this year but changes to the final product are still being made. In a recent interview, LP2 producer Jun Takeuchi said that his development crew is trying to implement split-screen co-op into the game.
"It's not easy, but if we are confident that we can do it, we'll let you know," said Takeuchi, he also stated that if the split-screen was indeed added to the game that other sacrifices would have to be made. "Technically, cycling between two split screens, you can actually say it took visual RAM. You still have to work with two sets of AI and physics and so forth at the same time."
Takeuchi was also the producer of Resident Evil 5, which featured both online and off-line co-op. That little fun fact doesn't prove that LP2's going to get local co-op too but it's reassuring nonetheless.