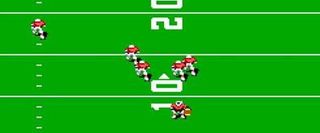 The Madden NFL series has sold over 85 million copies since the first game, John Madden Football, hit stores in 1988. EA's made billions off the franchise but John Madden designer Robin Antonick claims some of that money belongs to him.
According to Reuters, Antonick is suing EA for "tens of millions of dollars in owed royalties and potentially billions in profits over the franchise." The basis for the lawsuit is a contract with EA, signed back in 1988 that supposedly entitles Antonick to royalties on derivative versions of the game.
Antonick that the newest Madden games are still based on the original John Madden Football he designed for Commodore 64, MS DOS, and Apple II. He hasn't received a royalty check since 1992 so he thought they had developed subsequent games from scratch. However, recent statements by Electronic Arts founder Trip Hawkins apparently suggested that there were still traces of John Madden in the latest installments.
It's hard to believe that John Madden shares much DNA with, say, Madden NFL 11. There are some very basic similarities - each has injuries, fatigue, customizable weather and so on - is that enough for a multimillion dollar lawsuit? We shall see.
The Reuters report also notes that EA and Antonick have been in "confidential settlement negotiations" for the past couple years. This might all end, then, with an quiet, out-of-court settlement. However, maybe Antonick filed the lawsuit this week because those negotiations had stopped.
Your Daily Blend of Entertainment News
Staff Writer at CinemaBlend.