Madden NFL 12 Super Bowl XLVI Simulation Predicts Giants Win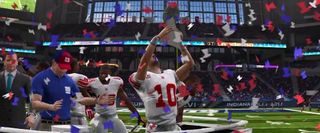 The New York Giants will defeat the New England Patriots in Super Bowl XLVI, according to Madden NFL 12. EA Sports simulated the matchup in the game and the result was a 27-24 victory for the G-Men.
In the simulation, Giants QB Eli Manning leads the team to a 17-10 lead in the first half with touchdown passes to Victor Cruz and Hakeem Nicks. Running back Ahmad Bradshaw ran for a touchdown in the third quarter to give the Giants a 24-10 lead.
Brady answered back in the fourth quarter with two touchdowns. With the game tied at 24-24 and only 1:50 remaining in the quarter, Manning led his team on a drive that took them all the way to the Patriots' 23-yard line. Kicker Lawrence Tynes then booted a 40-yard, game-winning field goal. Ultimately Manning's three-touchdown performance earns him his second Super Bowl MVP award.
This is the ninth time that EA has simulated the Super Bowl using Madden. The sims have been surprisingly accurate, too. In the case of Super Bowl XLIII, the predicted score was within two points of the actual result. All but two of the simulations have picked the correct winner. One of these two exceptions was the Giants and Patriots' match-up in Super Bowl XLII. Madden said that the Pats would win by 8 points but the Giants ended up victorious.
Super Bowl XLVI will take place on February 5th in Indianapolis. The kickoff time is 6:30 EST.
Your Daily Blend of Entertainment News
Staff Writer at CinemaBlend.
Your Daily Blend of Entertainment News
Thank you for signing up to CinemaBlend. You will receive a verification email shortly.
There was a problem. Please refresh the page and try again.