Marc Ecko's Getting Up Adds Pressure On Steam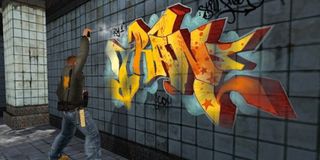 Coming out in the twilight of the PlayStation 2/Xbox era, Marc Ecko's Getting Up: Contents Under Pressure was an interesting breed of game, offering great music and fun gameplay in a package that was, well, headed up by a dude best known for his clothing line. Apparently there's a follow-up on the way and, to prepare, the folks responsible for the game have finally brought it to Steam and are offering it up for an initial 50 percent discount.
"Before Banksy was selling art in Central Park for 10 bucks a pop, graffiti artist and pop culture icon Marc Ecko released Getting up: Contents Under Pressure in 2006 to much fanfare on Xbox, PS2 and PC," reads a statement from Devolver. "Now fans of yesteryear can nab this bad boy for just $7.49, half off the regular price of $14.99, as Devolver Digital, purveyors of fine indie content, have propped it up on Steam."
When it was first announced way back in the day that Marc Ecko not only had a video game coming out, but that it featured graffiti art as a major mechanic and a police state as a main setting, more than a few eyes began rolling. Once the game came out, though, folks were singing a different tune. The story was decent and sported a message about creative expression. The controls were surprisingly refined, allowing players to explore the world, combat shadowy authority figures and tag some great designs with ease. And then there was that killer soundtrack, full of great rap and hip-hop tracks that perfectly suited the world and themes.
For those who missed out on their first chance to "get up," however, Devolver has finally brought the game to Steam, ready for a whole new generation to explore its intriguing world.
"Play as Trane, a 'toy' graffiti artist with the street smarts, athletic prowess and vision to become an all city king, the most reputable of all graffiti artists," reads the press release. "Along your quest, uncover the mayor's deep, dark secret and use your fighting talents and high-wire graffiti to expose the city's leader as a corrupt tyrant."
And now for fans new and old, it looks like even more Getting Up goodness is heading our way in some form or another, as Marc Ecko himself hints at a futures installment.
"As we plan the next evolution of our beloved franchise, we are excited to re-release the original Getting up to a new audience via Steam in partnership with Devolver Digital," said Ecko. "Devolver Digital has released every cutting edge game I have played in the last year, and I could not think of a better partner."
Kind words to end on, Ecko, but what we really want to hear about is his potential new entry to the franchise. A sequel? A unique app-based or portable game, perhaps? An augmented reality experience that requires gamers to actually go out and tag random buildings? What is it!?
While we don't have an answer to that question, at least you can mosey on over to Steam and get the original Getting Up on the cheap.
Staff Writer for CinemaBlend.
Your Daily Blend of Entertainment News
Thank you for signing up to CinemaBlend. You will receive a verification email shortly.
There was a problem. Please refresh the page and try again.