Mario Kart 8 DLC Pack 2 Courses Revealed With New Trailers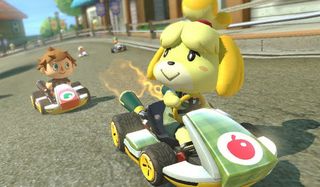 Nintendo released a ton of new promotional content for the upcoming DLC pack for Mario Kart 8, the Wii U racing exclusive. The new videos preview some of the new courses players will be able to race on as well as the new 200cc mode that adds a whole new level of speed to the game.
All Games Beta rolled out a list of the new trailers, starting with the new DLC overview trailer that you can check out below.
Okay, who else is completely geeked at what they did with the F-Zero in Mario Kart 8? While Miyamoto may have mentioned in the recent past that they aren't working on any new F-Zero games at the moment, this is probably as close as we'll get to a new one. Also, those boost pads on the track helping the karts go even faster yet while racing with the 200cc on is really awesome.
But that's not all. There's also an additional look at some of the new characters and their vehicles in yet another trailer. The one below focuses on the new Animal Crossing toons as well as the new courses that come from out of the popular live-your-life simulator. You can check that trailer out below.
If those two trailers got you all giddy and excited for the new Mario Kart 8 DLC, then you just might not be able to contain yourself knowing that there are even more promo trailers for the new downloadable content pack on display.
Over on the official Nintendo of Japan YouTube channel they rolled out plenty of new trailers for the new content. The trailer below previews "Big Blue", yet another track from F-Zero. Check it out below.
A few of the oldies-but-goodies were also previewed, including the "Baby Park" from Mario Kart: Double Dash, "Ribbon Road" and "Cheese Land" from Mario Kart: Super Circuit and "Neo Bowser City" from Mario Kart 7. However, not every trailer and promo piece was a retread of older games. Nintendo also let aficionados of the karting sports get a look at one of the brand new tracks made available in the DLC called "Ringing Metro". You can see it in action below.
That's a fresh track design.
You can look for all the new tracks to appear in the DLC pack for $7.99 on April 23rd, exclusively for the Wii U. The 200cc update will be made freely available to Mario Kart 8 owners.
Staff Writer at CinemaBlend.
Your Daily Blend of Entertainment News
Thank you for signing up to CinemaBlend. You will receive a verification email shortly.
There was a problem. Please refresh the page and try again.