Mario Kart 8 Gets A Brand New Mode This Month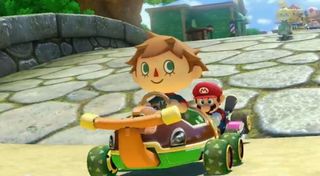 Nintendo recently held a Nintendo Direct session where they rolled out tons of new content coming out for the Wii U, along with new DLC for Mario Kart 8. The second major DLC pack contains new racers, two new cups with eight tracks, and all new vehicles and Mii costumes thanks to Amiibo support.
Gamespot did a basic rundown of all the new features with plenty of new trailers, the most significant being the 200cc upgrade that enables gamers to play through the new and old Mario Kart 8 tracks with the fastest racing mode ever implemented in a Mario Kart game. Check it out below. The racing mode will bring an all new challenge and an all new way to embrace the tracks in Mario Kart 8. It'll be very interesting to also see how this affects the online multiplayer component, given that a lot of gamers would love to be able to ramp up the skill level against their arch rivals now that the 200cc option has become available.
But the latest DLC pack isn't just about speed and moving fast. The game will also sport all new race tracks, one of which includes the Animal Crossing track. As you'll see below in the trailer, it features multiple seasons for players to race through, so it's like a different track for each season. It's kind of cool.
I'm sure hardcore gamers might complain that it takes on the typical girthy design for most other Mario Kart 8 tracks; it contains very wide turns and plenty of room so the racing skill is set kind of low.
Even still, the ability to race at different times of the day with different weather effects adds an extra layer of replayability to the course.
And speaking of replayability, the game's added Amiibo support grants players with extra character options to explore and experiment with how their Mii looks. You can check out the new costumes that will be made available for Mario Kart 8 with the extra Amiibo support.
So the new Amiibo support for Mii costumes include Sonic, Pac-Man, Mega Man, Rosalina, Toad and the Villager from Animal Crossing. They will be joined with the new characters on the roster that include Villager, Isabelle and Dry Browser.
Two new racing cups, a new speed option and four new vehicles makes this one giant DLC pack worth owning. All of this arrives for Mario Kart 8 on April 23rd, exclusively for the Wii U, for only $7.99. What a deal.
Staff Writer at CinemaBlend.