Mercenary Ops Zombie Mode Confirmed, Co-op Features Detailed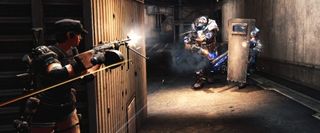 Yingpei Games, has let loose additional details for their upcoming third-person, Gears of War-esque shooter, Mercenary Ops. The new information confirms that the game will have a zombie mode, a survival mode and a horde mode.
What's more is that like most other third-person shooter games out there, Mercenary Ops will have a full assortment competitive modes for players to engage in as well, including team deathmatch for eight-on-eight bouts as well as elimination and demolition modes.
The real highlight though is that gamers who wanted a PC version of Gears of War 3 will sort of get their wish with Mercenary Ops as it makes the most out of the latest iteration of the Unreal Engine 3 and even sports destructible environments, bullet-based physics as well as individual material density so some weapons are more likely to destroy wood, metal or other surfaces faster than others.
There's also a heavy reliance on cover-based combat in Mercenary Ops, so you can practically take the same playing mechanics you used in Gears of War and apply it to Yingpei's upcoming title. Whether or not the quality will be on par to Gears of War is an entirely different story.
You can check out the complete list of the multiplayer features and the rundown below. Mercenary Ops is set for release this summer, exclusively on PC. For more information be sure to pay a visit to the Official Website.
CO-OP MISSIONS
• Assault (5 players)
Push forward with a team in objective-based missions to gain access to equipment and upgrades. Fight against ruthless enemies that become more challenging behind every door, drawing the player closer to the epic battle at the end of their assault.
• Survival (5 players)
Battle for survival by fending off seemingly endless waves of attacking zombies and other walking dead species. Prepare for the horrors that lie ahead by repairing defenses and earning points to unlock the weapons as well as ammunition needed to survive.
• Invasion (8 Players)
Take on waves of the enemy horde as they push forward in a path of destruction. Use time wisely and make shots count against deadly AI-controlled foes and mini-bosses to earn in-game currency.
COMPETITIVE
• Team Deathmatch (8 v 8)
Compete in a kill-based match-up across changing combat zones. In this fast-paced, tactical team battle, triumph over the opposition and earn a place at the top of leader board.
• Demolition (8 v 8)
Engage in an objective-based struggle of destruction by working with a team of conspiring mercenaries to seek and destroy a targeted bomb site. Defend against the opposing force by finding and defusing their bomb, or eliminate the threat altogether to claim victory.
• Elimination (8 v 8)
Take up arms against another team of opposing mercenaries in a tactical bout to determine the victor. When the only thing that matters is obliterating the enemy, even the smallest mistake can be grounds for defeat in this high stakes, elimination-based competition.
Staff Writer at CinemaBlend.
Your Daily Blend of Entertainment News
Thank you for signing up to CinemaBlend. You will receive a verification email shortly.
There was a problem. Please refresh the page and try again.