Metal Gear Solid 5: Ground Zeroes Is Only 2 Hours Long?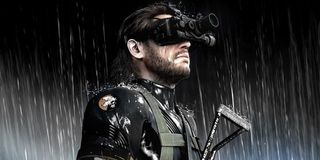 Keep your expectations for Metal Gear Solid 5: Ground Zeroes in check. According to a new Game Informer preview of the prologue (via Kotaku), the main story missions can be finished in just under two hours.
My first reaction: Two hours? That's bullshit. I don't think it's possible for Kojima to write a game that short. Knowing him, Ground Zeroes will have a 45-minute discussion about war and the morality of private military companies. For those of you who are new to Metal Gear, let me assure that's not even unrealistic for the series. Metal Gear Solid 4's last cutscene was over an hour.
My second reaction: Two hours? That's bullshit. It's a $40 game if you buy a boxed copy for PS4 or Xbox One. The other versions are cheaper ($30 for digital PS4/XB1 or physical PS3/Xbox 360, $20 for digital PS3/360) but it's still a significant purchase no matter which edition you pick up.
The short length isn't a huge shock. Ground Zeroes is meant as a prologue to Metal Gear Solid 5: A Phantom Pain. It sets up the story and introduces players to the new FOX Engine-driven gameplay mechanics. Still, based on the price and how long we've had to wait for it, I was expecting something longer.
The big unknown here, though, is the optional content. Ground Zeroes is a much more open-ended game than the previous MGS chapters. Kojima Productions mentioned in the past that the world will feature optional Side-Ops along with challenge missions with leaderboards. Furthermore, each console family will be getting exclusive side quests. Xbox 360 and Xbox One owners will be able to play as Raiden for a mission, while PlayStation gamers will become classic Snake.
Game Informer mentions elsewhere that they spent four hours with the game total. It's not clear if they completely finished it, though.
Ground Zeroes will launch on current-gen and next-gen consoles on March 18th in North America and on March 20th elsewhere in the world. Phantom Pain is currently undated. Its release window will likely depend on what gamers think of Ground Zeroes.
Image 1 of 6
Your Daily Blend of Entertainment News
Staff Writer at CinemaBlend.