Metal Gear Solid 5 And Metal Gear Online Release Date Revealed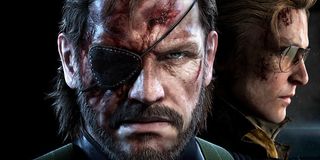 Metal Gear Solid 5: Phantom Pain is just a few months away. Today Konami announced the release date for Phantom Pain along with its multiplayer component Metal Gear Online.
PS4, PS3, Xbox One and Xbox 360 gamers across the world will be able to dive into Metal Gear Solid 5 on September 1st. PC gamers will have to wait a bit longer; the game's scheduled to hit Steam on September 15th.
Those release dates also apply to Metal Gear Online, which comes with MGS5 for no additional charge. Metal Gear Online, like the multiplayer component for older MGS games, lets players duke it out in objective-based battles. Players can choose between several character classes with their abilities and equipment. You can watch a few minutes of gameplay from Metal Gear Online here.
Players who pre-order Metal Gear Solid 5 will get an upgrade to the special Day One edition. Boxed copies of the Day One edition come with a map. Whether you pre-order a digital or physical copy, though, you'll get the following in-game bonuses:
Adam-ska Special Handgun
Personal Ballistic Shield (Silver)
Cardboard Box (Wetland)
Fatigues (Blue Urban Snake Costume)
Metal Gear Online XP boost
Konami says that the Steam version will come with all of this DLC at launch as well.
PS4 and Xbox One owners can also opt for the Collector's Edition, which costs £99.99/$99.99. This bundle comes with a few special extras like a freaky bionic arm and a behind-the-scenes documentary. It's unfortunately not packaged in a box with Snake's feet sticking out the bottom. The in-game items in the bundle do include some cardboard boxes for his collection, though:
Physical extras
Half Scale Replica of Snake's Bionic Arm
Collectible SteelBook
Behind the Scenes Documentary & Trailers Blu-ray Disc
MAP
Exclusive Packaging
DLC
Weapon and Shield Pack:
Windurger S333 Combat Special Revolver
Adam-ska Special Handgun
Maschinen aktische Pistole 5 Weiss Special Handgun
Rasp Short-Barreled Shotgun Gold
Personal Ballistic Shield?(Olive Drab)
Personal Ballistic Shield?(Silver)
Personal Ballistic Shield?(White)
Personal Ballistic Shield?(Gold)
Cardboard Boxes
Cardboard Box (Rocky Terrain)
Cardboard Box (All-Purpose Dryland)
Cardboard Box (Wetland)
Snake Costumes
Fatigues (Black Ocelot)
Fatigues (Gray Urban)
Fatigues (Blue Urban)
Fatigues (All-Purpose Dryland)
Other
Metal Gear Online
Metal Gear Online XP boost
Metal Gear Rex Helmet
AM MRS-4 GOLD Assault Rifle
WU S. PISTOL GOLD
Metal Gear Solid 5: The Phantom Pain continues the storyline from MGS5: Ground Zeroes. Snake's mercenary army has been destroyed by an unknown force. He's also been gravely wounded and wakes up in a hospital without one of his arms. In the campaign, he'll recruit a new group of allies and get revenge on his attackers.
Your Daily Blend of Entertainment News
Staff Writer at CinemaBlend.