MineCraft PS4 And Xbox One Screenshots Released By 4J Studios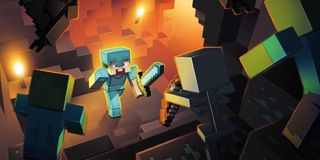 4J Studios has released a couple new screenshots from the upcoming PS4 and Xbox One versions of Minecraft. The screens show how they've been able to increase the view distance of the game with the new consoles.
The developer released identical screenshots from Minecraft Xbox 360 and PS3 so you can fully appreciate the greater view distance. First, here are the PS3 and PS4 screenshots:
The difference between the Xbox 360 and Xbox One versions is just as striking:
Alright, it's not exactly Minecraft HD. Still, view distance is a great thing to upgrade for this game. It allows players to see more of their creations and take better screenshots or videos.
4J Studios added in another tweet that they're increasing the world size for Xbox One and PS4. Minecraft Xbox One and PS4 could have worlds "36 times the area of the Xbox 360/PS3." They're still testing out that aspect of the ports though so the number might change.
Xbox boss Phil Spencer previously confirmed that Xbox 360 saves can be transferred to the Xbox One version. Mojang, the original creators of Minecraft, said that PS3 saves can be imported into PS4. That should make players much more likely to upgrade to a new version of Minecraft.
As far as we know, you'll have to purchase a fresh copy of the game for PS4 or Xbox One, though. 4J hasn't announced any discounts for players that already own the PS3 or Xbox 360 editions.
4J has yet to announce a release date for the PS4 and Xbox One versions, though. Spencer said in March that Minecraft Xbox One Edition is very close. Presumably the PS4 Edition is just as far along. It's likely that the game will make its debut on these consoles before the year is out.
Staff Writer at CinemaBlend.
Your Daily Blend of Entertainment News
Thank you for signing up to CinemaBlend. You will receive a verification email shortly.
There was a problem. Please refresh the page and try again.