Minecraft Xbox 360 Edition Adding Killer Instinct Skins Soon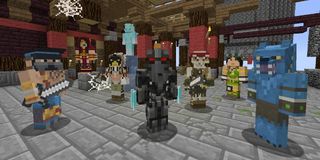 Minecraft Xbox 360 Edition is about to get another exclusive DLC pack. Today 4J Studios showed off the first screenshots from the add-on, which carries the unsexy name of "Skin Pack 6."
Skin Pack 6 includes all eight characters from the first season of Killer Instinct on Xbox One: Jago, Sabrewulf, Glacius, Thunder, Sadira, B. Orchid, Spinal and Fulgore. Secret character Shadow Jago apparently didn't make the cut.
Trials, the stunt biking series once exclusive to Xbox 360, will also be represented in Skin Pack 6 as well. Players will get two skins based on riders from Trials Fusion:
Those characters are probably thrilled to be free of their bikes, which seem to bring them nothing but pain and death in Trials games. I'm sure they'll find other ways to get themselves killed in Minecraft, though.
Today's announcement only revealed a fraction of Skin Pack 6's content. These add-ons usually contain over 30 skins. Additional details will be announced on PlayXBLA throughout the week. Maybe we'll see some other Xbox-exclusive characters, like the cast of Sunset Overdrive or Fable Legends.
Some of the screenshots for Skin Pack 6 explicitly mention Minecraft Xbox 360 Edition. However, it's probable that this DLC will appear on the Xbox One version of Minecraft. Killer Instinct and Trials Fusion were both released on XB1, after all. The Xbox One version of Minecraft isn't out yet but should debut in August.
4J Studios hasn't announced the price of Skin Pack 6 yet. Previous skin packs were typically priced at $3. Those add-ons gave players the option of downloading a free trial version with a small sample of skins as well.
This poll is no longer available.
Image 1 of 3