ModNation Racers Trailer Features A Nation Of Customization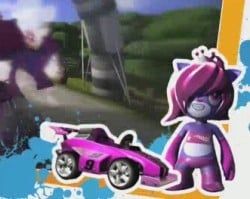 Sony and United Front Games' upcoming community-based online racer just received a new trailer to help convince uninformed gamers that the next best karting game is arriving for the PS3.
ModNation Racers is pretty much the go-karting version of LittleBigPlanet. The game sees players creating their own racer avatar, fixing up and customizing their very own kart and then taking things a step further by creating the very tracks that any and everyone can race on by uploading it online. Cool, huh? Well, the scope of all that seems too good to be true, but if Media Molecule pulled it off with LPB, I'm sure United Front can do the same with MNR.
You can check out the full customization trailer below or visit the Official Website to stay updated on ModNation Racers, which will be exclusively available for the PlayStation 3.
Staff Writer at CinemaBlend.
Your Daily Blend of Entertainment News
Thank you for signing up to CinemaBlend. You will receive a verification email shortly.
There was a problem. Please refresh the page and try again.