Monster Hunter Online Screenshots Battle Bosses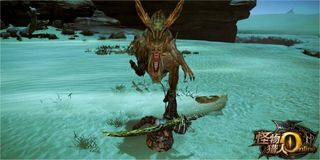 Tencent Games sent out some brand new in-game screenshots for the upcoming Monster Hunter Online MMORPG. The screenshots, as usual, are perfectly stunning with nothing but high quality, high fidelity visuals on display thanks to being powered by Crytek's CryEngine 3.
Dual Shockers managed to get their hands on the new screenshots as they detail the setup of the screenshots, which focuses on the boss, Gendrome.
There are pounce attacks to look out for as well as a dust maneuver that will temporarily incapacitate you and your buddies.
Like most other MMOs out there, Monster Hunter Online focuses heavily on building up camaraderie with other players in your adventures through the vast lands of the monster-filled world. Unlike other MMOs, though, this game does not focus on the holy trinity of CC + Tank + Healer. Instead, the game does away with traditional class structures and keeps things very similar to the portable and console versions of Monster Hunter, where players will find a weapon that best suits them and try to find additional parts, pieces and material to craft new weapons in order to battle some of the big bad bosses in the game.
I like the approach the game is taking so far, moving away from the standard MMORPG setup and offering something closer along the lines of RaiderZ and Guild Wars 2, for players who prefer skill over numerical stat balancing.
You can check out the new screenshots for Monster Hunter Online below. The game is set for closed beta testing this summer. We'll keep you posted on when the CBT will officially get underway.
Image 1 of 4
Your Daily Blend of Entertainment News