Monster Hunter Stories Is A New Direction For The Franchise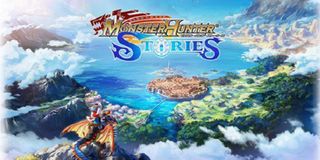 There's already a new Monster Hunter game headed our way but, don't fret, it isn't a slightly updated version of the one everyone recently purchased. Instead, Monster Hunter Stories will be more akin to a traditional RPG and, according to the team at Capcom, it will take the series in a whole new direction.
Siliconera is reporting that, over the weekend, Capcom hosted Monster Hunter Fest '15, where they revealed the new title and briefly discussed what makes it so different from traditional Monster Hunter games.
"It is still in the middle of development, we'd like to offer you a new kind of excitement that is different from the conventional series, and the development staff are working on it in full-spirit," said Producter Ryozo Tsujimoto. "After having passed the 10th anniversary last year, this is a new challenge for the Monster Hunter series."
Tsujimoto explained that the ball got rolling on Monster Hunter Stories about five years ago but, aside from the fact that the game will look and play differently than the traditional games in the series, little else was revealed.
Oh, except for this adorable trailer, that is:
As you can see, Tsujimoto wasn't kidding when he said that Stories would be moving in a new direction for the Monster Hunter series. The same goofy humor appears to be on display but, rather than taking on the traditional realistic-ish art style, Stories looks more like something you'd expect to see out of a Saturday morning cartoon. I'm not saying that as a negative, as the trailer looks great and all of those lively colors are nice to see every once and a while.
It looks like the new hero will be a youngster, but whether or not you can create an avatar of your own is unknown. Also on display are smaller monster mounts and, assuming you can trot around the game world battling fierce beasts atop your trusty dragon companion, you can go ahead and sign me up for whatever else MHS has to offer.
Monster Hunter Stories isn't due out for the 3DS in Japan until sometime in 2016, so don't expect to be playing this anytime soon here in the States. In other words, by the time you finally grow tired of the recently released Monster Hunter 4, you'll have something fresh yet familiar to look forward to.
As for me, I haven't been able to get into any of the more recent traditional Monster Hunter games, so maybe Monster Hunter Stories will finally draw me back into the series.
Your Daily Blend of Entertainment News
Staff Writer for CinemaBlend.