Monster Hunter 4 Ultimate Gets Collectors Edition Details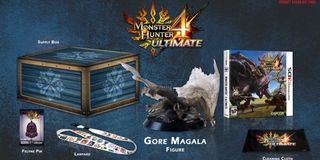 The North American launch of Monster Hunter 4 Ultimate might still be a ways off, but that isn't stopping Capcom from releasing some Collector's Edition details nice and early. Along with the game, this version of MH4U will include a small statue, a decorative pin and lanyard, and more.
Set to arrive in Japan this October, and just in time for that spiffy New 3DS in Japan, Monster Hunter 4 Ultimate looks to pack in all of the series staples fans know and love, as well as some additional frills including new weapons, monster types and a desert setting.
I had the opportunity to go hands-on with the game during this year's E3 press conference and, yep, it's a Monster Hunter game, alright. It looks, sounds and feels like what you would expect, with the added bonus of some new launch attacks, a handy lock-on feature and the chance to jump on the back of monsters and pummel them while holding on for dear life.
If diving into the monster hunting grind once more sounds like your cup of tea, then you'll likely want to move double quick to pre-order your copy of the North American exclusive Collector's Edition. It's only available through GameStop at present but, according to the announcement, it'll be available from other digital retailers in the not-too-distant future.
So, what does this sweet collector's edition of sweet sweetness have to offer you Monster Hunter fans in the audience? Well, for starters, you get a copy of the game. But that was probably a pretty obvious inclusion, yes?
Along with a decorative box to keep all of your goodies in, you'll also receive a themed lanyard, a pin displaying one of your adorable Felyne companions, a cleaning cloth showing off the game's logo, and a Gore Magala figure to display proudly on your desk, bookshelf or bathroom counter. A lot of collector editions these days usually suffer from a lack of having anything to... well, collect. However, in this case Capcom seems to have a nice smattering of goodies for die-hard fans to salivate over if they decide to pony up the extra cash.
Not a bad haul, actually, and it comes in at a rather reasonable price of $59.99. While our friends across the pond get to dive into Monster Hunter 4 Ultimate early next month, we here in the States have to hold our horses until March 31 of 2015 to start slicing and dicing. Don't forget to swing by the GameStop website (opens in new tab) for a pre-order, if that's your retailer of choice. Otherwise, hang tight and keep your eye on the Capcom blog for details on when other retailers will have the Collector's Edition available for pre-order.
Staff Writer for CinemaBlend.
Your Daily Blend of Entertainment News
Thank you for signing up to CinemaBlend. You will receive a verification email shortly.
There was a problem. Please refresh the page and try again.