Mortal Kombat X Adds A Cowboy To The Roster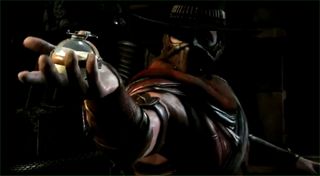 If you haven't already seen Erron Black in action, you've come to the right place to get your first look at the western-themed fighter in Mortal Kombat X. Black was briefly revealed a short while ago as part of the Xbox achievements leak, but now we finally get to see him in action and it's glorious.
GamesHQ Media has the first bit of gameplay content from Erron that you can check out below.
Polygon did a brief write-up on the character following the leak last week, but recently the videos emerging of the character from the NetherRealm live-streams and the video teasers released help flesh out exactly what kind of character Erron Black is.
I was originally very worried about how a gunslinger would fit into the Mortal Kombat X roster, given that NetherRealm really seems to have fleshed out the list with some top-tier fighters, each with their own unique and devastating move-set. Pardon me for being a bit reticent in my enthusiasm for Erron being a top-tier character at first because cowboys aren't typically included in many one-on-one fighting games. Then again, cowboys aren't particularly known for being expert martial artists when it comes to fisticuffs. Brawlers? Yes. Martial artists? No.
So color me surprised that Erron absolutely looks top-tier in that trailer above. It's one of this three variations that he has, which allows him to do a lot of mid-screen combo control. It's a very unique kind of play-style that I'm already loving. It reminds me of a much faster iteration of the Green Arrow that NetherRealm dabbled around with for Injustice: Gods Among Us.
You can check out one of the other variations for Erron's fighting style with the video below, covering his Outlaw schtick. I don't think I like it quite as much as his Gunslinger variation, but it's still kind of cool, especially how he got that Tarkatan blade.
The only thing people complained about regarding Erron was his finisher. As you can see in the video above, it's pretty darn lame compared to the others in Mortal Kombat X. He just throws a sand capsule into his opponent's chest and then shoots it, causing them to fill up with sand. It obviously has something to do with his story, we just don't know what it is... yet.
Still, Erron is a pretty cool character based on the videos available of him, so far. I thought at first he might be low or mid-tier, but his combos as a Gunslinger are absolutely righteous, and if I had to take a guess I would put him in the upper-tier. We'll see where he fits when EVO 2015 comes around.
Mortal Kombat X is due for release on the Xbox One, PS4 and PC on April 14th. You can expect to see the game arrive on the Xbox 360 and PS3 this summer. You can check out all the revealed characters for Mortal Kombat X in Gaming Blend's giant character roster guide.
Your Daily Blend of Entertainment News
Staff Writer at CinemaBlend.