Mortal Kombat X Brutalities Trailer Is Full Of Blood And Gore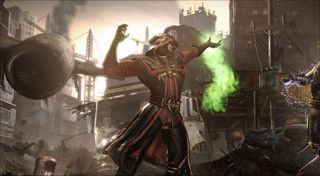 A new trailer was released by NetherRealm Studios for Mortal Kombat X featuring the game's highly anticipated Brutalities. The trailer contains one whole minute of people being torn apart, ripped up, shredded, mutilated and on the receiving end of very gory Brutalities.
Brutalities were basically like beatdowns until the person died a violent death. They made their appearance in Ultimate Mortal Kombat 3 and featured characters performing combos so brutal the opponent exploded.
In fact, way back in the day the Brutalities in Mortal Kombat could be compared to the Ultra Combos from Killer Instinct, with the added bonus of the opponent being blown to bits at the end of the combo. Conveniently enough YouTuber Joevic42 has a compilation of Brutalities from Mortal Kombat 3 that you can check out below to compare to the more recent Mortal Kombat X.
I've got to be honest: I was never really much of a fan of Mortal Kombat 3 because I didn't like that Johnny Cage was dead and that Ho Sung Pak was no longer Liu Kang in the game. I know, I know, it's some minor crap but still... Ho Sung Pak made Liu Kang!
It's also pretty amazing to see how the Brutalities have evolved over time, enabling for unprecedented amounts of gore to be exercised against the "kombatants" in Mortal Kombat.
The trailer, unfortunately, doesn't give a lot of context to setup of the Brutalities – we're not really sure how to pull them off in Mortal Kombat X and they don't really explain what triggers them. Obviously Brutalities can end a match but they don't show off when they can be pulled off. There's also an extended three minute trailer that you can check out below.
I'm definitely curious to see how the Brutalities will play a role in the FGC tournaments like EVO 2015 when Mortal Kombat X makes an appearance at the annual e-sports event.
NetherRealm has been consistently unveiling new content and new characters for Mortal Kombat X leading up to the game's April 14th, 2015 release. We've been able to see characters like Kitana and Reptile in action, as well as characters like Kano and Raiden.
There are still some new characters on the roster that we don't know about and there are rumors swirling about the inclusion of Spawn in Mortal Kombat X as a special character (which would be absolutely awesome). Hopefully we'll get a surprise in seeing the undead anti-hero showing up as a guest character. I mean, there are four DLC characters planned for release so it would be awesome if he happened to be one of them.
Mortal Kombat X is scheduled to release as a cross-generational title for the Xbox 360, Xbox One, PS3, PS4 and PC. You can learn more about the game by paying a visit to the official website.
Your Daily Blend of Entertainment News
Staff Writer at CinemaBlend.
Your Daily Blend of Entertainment News
Thank you for signing up to CinemaBlend. You will receive a verification email shortly.
There was a problem. Please refresh the page and try again.