Mortal Kombat X PS3 And Xbox 360 Not Being Developed By Netherrealm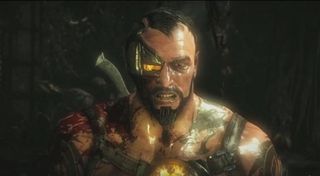 If you were worried that NetherRealm Studios were being pushed thin in the development of Mortal Kombat X on the Xbox One, Xbox 360, PS3, PS4 and PC, you don't have to worry because they're not. The reality is that NetherRealm is focused on the big boy consoles while High Voltage Software is focused on the last-gen consoles.
Videogamer has a brief article explaining how Warner Bros. Entertainment commented about the development appointments between NetherRealm Studios and High Voltage, and how one studio isn't taking on the burden of developing Mortal Kombat X for all the main home consoles (which would be kind of insane).
A Warner Bros., rep explained that...
High Voltage has been around for a long time. I remember them from way back in the day with games on the PSX. One of their more popular titles was the Wii exclusive The Conduit. That was back when Nintendo was the industry leader in the market.
As noted in the Videogamer article, more recently High Voltage was responsible for porting Saints Row 4 to the Xbox One and PS4, as well as NetherRealm Studios' Injustice: Gods Among Us.
The reason that Warner Bros. Entertainment outsourced the port of the Xbox 360 and PS3 version to High Voltage was due to maximizing the potential quality of the outing, as stated in the Videogamer article...
NetherRealm Studios and Warner Bros., have been actively promoting the game since Mortal Kombat X's announcement last year. Just recently they focused on the game's new Living Towers mode, which allows players to battle it out in hourly challenges, daily challenges or weekly challenges.
Both studios have also been rolling out character profiles and trailers rather frequently, giving gamers a nice look at the very diverse roster of pugilists, from Cassie Cage and Kotal Khan to Kano and Kung Lao. There's been a steady flow of information to build hype and anticipation for the game.
With NetherRealm being able to focus solely on the newer-gen consoles, it definitely adds a bit of relief knowing that there won't be the cross-gen blues that gamers suffered with Call of Duty: Ghosts and Battlefield 4, where problems persisted long after launch due to trying to scale the games across the four main consoles.
Mortal Kombat X is, so far, shaping up to be a rather interesting title. I'm definitely loving the fast-paced combat with the 60fps focus. The fluidity really adds to the game's appeal. Now it's just a matter of seeing how well that's going to translate down toward the PS3 and Xbox 360.
You can look for Mortal Kombat X to become available on April 14th, 2014 for the Xbox One, PS4, PS3, Xbox 360 and PC.
Your Daily Blend of Entertainment News
Staff Writer at CinemaBlend.