Mortal Kombat X Living Towers And Faction War Modes Announced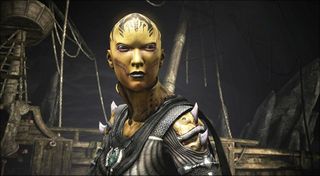 Some new information has emerged for Mortal Kombat X, this time detailing the new challenge towers for both single and multiplayer modes. The modes have been expanded greatly from Mortal Kombat 9, moving from a single Challenge Tower mode into multiple modes... but there's a catch: the Tower and Faction modes are always-online.
Eurogamer has a very thorough and detailed write-up on the new Living Tower mode that breaks down into three distinct sub-modes, as well as the new Faction War that enables players across any platform from all over the world to participate in a cooperatively competitive mode where factions earn points and grow stronger while competing against other factions in a points-based system.
But before getting into the whole Faction War thing, let's first discuss the Living Towers in Mortal Kombat X. The three sub-modes include Quick Tower, Daily Tower and Premier Tower.
The Quick Tower is basically just a matter of climbing up the tower – kind of like the classic way that the old Mortal Kombat games were played. However, there's a twist. The Quick Tower has various challenges for players to overcome while dealing with match conditions and is updated every few hours. What sort of match conditions? Well, like player slowdown or player speed-up based on the combos you execute. More combos means you move faster.
Additional conditions include things like falling bombs from the sky or extra bonus points for only doing something like taking out an opponent with just leg kicks or what have you. This is somewhat similar to the kind of hidden methods that were used for unlocking hidden characters in the older Mortal Kombat games.
The Daily Tower mode offers players updated challenges to complete within a 24 hour period. The Daily Tower challenges would be reset after the 24 hour period, offering players eight new challenges to complete.
The Premier Tower is updated on a weekly basis but that's because it offers 15 challenges and has special events that players must overcome for special bonuses.
According to the Eurogamer article, there are still coins and points that players earn, so I'm assuming there are still a lot of unlockables in Mortal Kombat X. In previous games players would earn the coins to unlock new artwork, characters, costumes and sometimes whole new modes from the Krypt.
The Living Towers is supposed to be designed to keep replay value intact for the game, but the downside is that it's an always-online mode. I thought the original Challenge Tower was good enough for what it was in Mortal Kombat 9. The idea that it needed to be online kind of strips away from the single-player aspect, or more important, the offline aspect. In fact, I never fully finished or unlocked everything from Mortal Kombat 9. I'm not really sure that for the average "Kombatant" that the online requirement would add to the replay value when the previous Challenge Tower was already more expansive and replayable than most RPGs these days.
Anyway, the Faction Wars mode is designed to allow players across any platform to join a faction and earn points for that faction. At the end of the week, the leading faction gets special bonuses and power-ups – similar to the Bible Wars in DarkEden, where whoever held the most bibles earned special bonus perks for the week.
The Faction Wars is designed to integrate a more social atmosphere into the Mortal Kombat universe.
Mortal Kombat X is set for release on April 14th, 2015 for the Xbox One, Xbox 360, PS3, PS4 and PC.
Your Daily Blend of Entertainment News
Staff Writer at CinemaBlend.