Why Mortal Kombat X Won't Have A Demo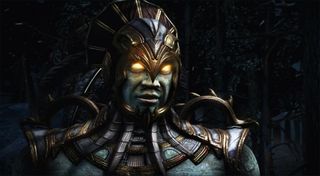 One of the big games set to drop this spring is NetherRealm Studios and Warner Bros. Interactive Entertainment's Mortal Kombat X. The game is building up hype like crazy and gamers can't wait to get their hands on the game. The only thing is, you won't be able to try it before you buy it.
MP1st took note of a tweet from the co-creator of the Mortal Kombat franchise, Ed Boon, who answered some fan questions on Twitter. In a very concise and simple manner, when someone came digitally crying to Boon about a possible demo for Mortal Kombat X, here was his response.
Bummer.
The lack of a demo is probably disconcerting to most gamers because a lot of people really love being able to play-test games before they release. It's hard to gauge a title just based on videos – even though I do have to admit that the gameplay videos for Mortal Kombat X look really, really good. Personally, I think I could bypass a demo and just pick up a copy of the game because it looks like an improved version on Mortal Kombat 9. The moves are faster, the combos are smoother, the manuals look good and the three different fighting variations are absolutely righteous.
Even still, not every gamer is gung-ho with diving into a game just because; some people need proper incentive to commit to the $60 day-one purchase and a demo is the perfect way to make it happen (if the game is good).
Of course, executive producer Shaun Himmerick explained in a tweet that...
It's hard to argue with that kind of sound logic, eh? If Mortal Kombat X is better for not having a demo, I suppose it's better to have a polished game than a short demo.
Then again, NetherRealm has built up enough trust over the years with a lot of quality outings to afford to pull a no-demo clause with Mortal Kombat X. Injustice: Gods Among Us was a very good follow-up to Mortal Kombat 9, and was another greatly improved fighter with sound mechanics, plenty of replayability and enough content to keep gamers playing for a long while after release.
Given that NetherRealm is focusing on the 60fps outing of Mortal Kombat X for the Xbox One, PS4 and PC, with High Voltage taking on the task of dealing with the Xbox 360 and PS3 port, I'm somewhat confident that the game will come out well enough that a demo won't be necessary to convince long-time fans of the series to plop down some coin to pick up a copy of the game. And, of course, for the uber-skeptics, there's always Gamefly.
Mortal Kombat X is due to drop on April 14th, 2015 for the old-gen consoles, new-gen consoles and PC.
Your Daily Blend of Entertainment News
Staff Writer at CinemaBlend.
Your Daily Blend of Entertainment News
Thank you for signing up to CinemaBlend. You will receive a verification email shortly.
There was a problem. Please refresh the page and try again.