DarkEden Genesis Revived For Gamers Who Enjoy Diablo Without DRM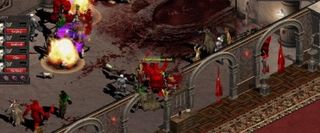 The long-running free-to-play MMO, DarkEden, has many iterations out there, and one of the most beloved version has been overhauled and reinstated online: DarkEden: Genesis. DarkEden is basically a post-apocalyptic, PvP-based Diablo clone, except you can play it for free and you don't need to buy anything if you don't want to.
The debate over Blizzard's decision to completely axe the offline mode in Diablo 3 technically isn't that bad if you look at it from the perspective of Diablo 3 simply being an MMO. However, it's not quite an MMO but it has all the pay-to-play, buy-to-win microtransactions of an MMO. In result, the game no longer has an offline single-player mode…players will always have to be online, all the time, to play the game…even if you plan on playing alone.
Games like Age of Conan and HellGate offered players microtransactions and offline single-player modes, so I'm not entirely sure why the biggest MMO publisher in the world can't afford to do the same, but alas that just doesn't seem to be on the table as an option for Blizzard. Strangely enough, id Software seems to think that all big-budget single-player games need to go the route of always-online. I'm not really sure how that benefits the gamer, though.
For those of you who want to play a game like Diablo but you don't want to pay retail prices (or hidden fees) for it, you can always settle for the free-to-play alternative known as DarkEden. It's basically an isometric hack-and-slash MMO designed with old-school PC gamers in mind, and anyone with an old DE: Genesis account can log back into the game and pick up right where they left off.
New features such as a player operated auction house, monster taming and new items and weapons are also considered for future updates. You can learn more by heading on over to the Official DarkEden Website.
As for the Diablo 3 fiasco, The Armchair Empire has a rather interesting op ed covering the matter and is a worthwhile read for anyone seeking yet another opinion on the Diablo 3 DRM issue.
Your Daily Blend of Entertainment News
Staff Writer at CinemaBlend.