Mortal Kombat X Predator Gameplay Trailer Carves Up The Competition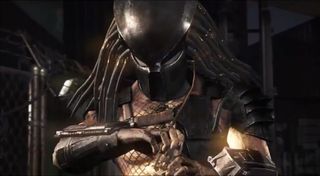 You can finally get your first look at the Predator in action in Mortal Kombat X. Previously we were always teased with snippets of the iconic space hunter but we never got to see him in action. Well, there's a 20 minute video showing him throwing down and carving up the competition, courtesy of All Games Beta..
The video covers multiple fights with the Predator as he takes on various combatants from the popular Mortal Kombat roster.
Unfortunately we don't have an expert FGC player at the helm of the character, so the combos aren't anywhere near as clean as you may have hoped and the opportunities to see his Finisher are oftentimes squandered with a single hit. At around the six minute mark we do finally get to see him perform one of this finishers using the bladed disc.
The video is more-so used as a way to just show the character off and not so much to detail the Predator's move list and abilities. That's certainly not to say that he doesn't have cool moves or cool abilities, because he does.
It's obvious that NetherRealm Studios put a lot of time and effort into the Predator's presence on the Mortal Kombat X roster. He has all the signature cloaking features, which can be used at will, as well as his shoulder cannon and wrist-blades.
During the middle of the video we also get to see one of the other neat features of the DLC pack featuring the Predator... Carl Weathers. He was one of the main characters in the movie and met a gruesome end at the hands of the Predator.
Once again, the developers picked the right person to have the Carl Weathers skin applied. Giving Jax the makeover is bound to have a lot of fans playing as the character just to see Carl Weathers get some revenge on the Predator.
In addition to this, Johnny Cage and Scorpion also gain an extra skin with the new DLC, including the Commando Cage skin and the Infrared Scorpion skin.
The new DLC is due to drop for Mortal Kombat X this July, just in time for EVO 2015. One of the biggest fighting game tournaments is usually where studios unveil big announcements within the fighting community or introduce new features or functions for some older games. Capcom has made it a habit to drop some big bombs during the most recent EVOs, including news about Street Fighter V and Ultra Street Fighter IV.
If you don't already have Mortal Kombat X it's easily one of the best entries in the series as far as the fighting goes, and you can look for the new Predator DLC to launch soon enough, which will add even more content to the game.
Your Daily Blend of Entertainment News
Staff Writer at CinemaBlend.