Ultra Street Fighter 4 Dated For PS4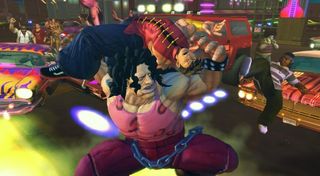 Capcom's Ultra Street Fighter IV is finally the making the leap to the current console generation. PlayStation 4 owners will be able to purchase their very own copy next month.
Over on the PlayStation Blog, production director Gio Corsi mentioned that the game has been finely tuned for the PS4 and that the characters, DLC, and upgrades from every previous iteration of Street Fighter IV will be added to Ultra Street Fighter IV.
What's more, Corsi also mentioned that Capcom has addressed certain input lag issues from the PS3 version of the game:
Input lag is also sometimes caused by poor frame-rates, an issue that was very apparent during the PS3's life-span. Many of the system's third-party releases had lower benchmark scores than their Xbox 360 counterparts. The PS3's cell architecture, while generally considered more powerful than the Xbox 360, was a tricky beast to master. So, a lot of games had hang-ups when it came to consistent frame-rates, which in turn affected input latency. The frame-rate and input lag issue was especially egregious with GTA IV and the original Bayonetta.
Capcom's plan to put extra time and care into the latency issue could be part of a plan to get the PS4 version of Street Fighter IV used on the FGC tournament scene. While it's a niche scene, it's very powerful, given that the people playing and sharing their experience within that community are the diehard fans. It's why Super Smash Bros. Melee is still being used frequently in the tournament scene and why some developers frequently issue patches for games long after release to balance out various characters and moves.
Ultra Street Fighter IV originally hit the market back in 2014 for the Xbox 360, PS3, and PC. The game featured everything that was already present in Super Street Fighter IV but with a few new additions to the game. Five new characters (Rolento, Elena, Hugo, Decapre and Poison) were ported over from Street Fighter X Tekken.
Gameplay wise, I was never big on Street Fighter IV. I thought it was kind of slow and the fighting felt somewhat ancient compared to the Street Fighter III games. I was a lot more interested in Street Fighter X Tekken, given the game's faster pace and unique mix of fighting mechanics that were carried over from the Tekken series. But the DLC model was a real turnoff.
Nevertheless, fans of Ultra Street Fighter IV that never picked up a PC, PS3 or Xbox 360 copy will be able to get their hands on the digital-only release of the game on PS4 next month.
Ultra Street Fighter IV will hit the shelves on May 26th for $24.99
Your Daily Blend of Entertainment News
Staff Writer at CinemaBlend.