NBA Street Homecourt Lays Down The Facts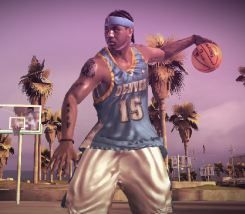 Electronic Arts' next-gen rendition of streetball is visually splendid for the Xbox 360 and PS3. NBA Street's upgrades don't stop with the graphic prowess of the new consoles, though. EA has laid down a fact sheet for all the over-hauling this franchise has undergone to bring gamers top-notch b-ball, off the court.
NBA Street Homecourt will include tons of playgrounds and homecourts of legendary basketball stars and a whole new way to play on them. One of the coolest new features is the ability to create tricks on-the-fly, using the new Trick Remixer. Gamers can also use the Trick Remixer to gain respect and earn props in their journey to becoming the greatest street-baller of all time. But enough with the rambling, if you want the facts you can drop down below and read up on all of NBA Street Homecourt's features.
Game Features:
• Trick Remixer: This all-new trick system gives you the ball and puts it in your hand. Take control of your player's rhythm mixing quick tricks with elaborate moves using two trick buttons. Perform crossovers with an instantaneous response and string together the perfect blend of combinations to take over any game.
• Game Breaker: Unleash a whole new set of over-the-top tricks and electrifying dunks, or watch in disbelief as your rival steals away the opportunity. Whoever has the money ball owns the Game Breaker, so releasing it into play is only the start of the pulse-pounding action.
• Take Your Game to New Heights: All-new dunk controls keep you engaged from take-off to throw down. Rule the court above the rim by leaping off a teammate's shoulders for a jump-off dunk or pull-off the ultimate double dunk.
• Showcase your Master Skills: The best NBA players have hidden master skills that separate them from the rest. Take them head on as you level up your created baller and make him a master in his own right.
• Become a Homecourt Hero: Go from an unknown talent to a playground legend and put your homecourt on the map by dominating courts from coast-to-coast. Create a baller, improve his game, and feel his confidence build after every win. It's your turn to take on the NBA's best and walk away a hero.
• Every Legend has a Beginning: The NBA's best all came from somewhere and many built their skills and reputations in their hometown playgrounds – including NBA Stars Carmelo Anthony and Richard Hamilton. Earn the right to take them on head-to-head in their real-life homecourts.
• Fresh Create-a-player: New Create Player system allows you to quickly create avatars by melding your favorite NBA stars into the ultimate baller. Mix and match the likes of Vince Carter and LeBron James for leaping ability, Allen Iverson and Chris Paul for ball handling, and Ray Allen and Peja Stojakovic for superior shooting skills.
• That Girl's Got Game: Six of your favorite WNBA stars are featured for the first time ever, including Diana Taurasi, Sue Bird and Sheryl Swoopes.
• Take Your Game Online*: Represent your homecourt online with your created player against the nation's greatest ballers—anywhere, anytime.
Staff Writer at CinemaBlend.
Your Daily Blend of Entertainment News
Thank you for signing up to CinemaBlend. You will receive a verification email shortly.
There was a problem. Please refresh the page and try again.