Naruto Shippuden: Kizuna Drive Demo Arrives For PSP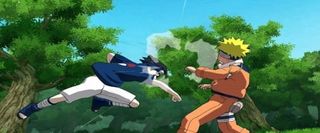 Naruto fans ignite! You can let the "OMGZ" and "Teh l33t" statements out of the bag now that a playable demo of Naruto Shippuden: Kizuna Drive has arrived for the PlayStation Portable, with all the fast and furious gameplay your thumbs, eyeballs and brain can handle.
As stated in the press release…
The demo offers up players the option to play as Naruto, Sakura, Kakashi and Shikamaru as players battle it out with melee and jutsu attacks to kick the living crap out of anyone who stands in the way of victory.
One of the neat aspects of the game is that in the full version there's a free battle mode where up to four players can cooperatively fight together via ad hoc, using team combos and tactics to overcome insurmountable odds against some tough-as-nails opponents.
Naruto Shippuden: Kizuna Drive is set to release exclusively on the PSP come March 22nd, the game is rated 'T' for Teen and will carry a retail price of $39.99. The demo is currently available via the PlayStation Network. You can learn more about the game by heading on over to the Official Website.
Staff Writer at CinemaBlend.
Your Daily Blend of Entertainment News
Thank you for signing up to CinemaBlend. You will receive a verification email shortly.
There was a problem. Please refresh the page and try again.