Need For Speed: The Run Now Available For Xbox 360, PS3, PC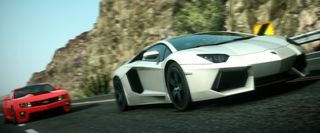 The blockbuster-style racing game set against cross-country tracks with beautiful super-models and lots of sexy cars is finally available for the Xbox 360, PS3 and PC. It's so blockbustery that even Michael Bay approves of the game.
Jason DeLong, Executive Producer, Need for Speed The Run stated in the press release that…
The game comes jam-packed with plenty of on-foot quick-time events and cinematics, as well as lots of intense balls-to-walls racing tactics where players will have to out-run cops, out-race opponents and out-maneuver pesky civilians just minding their own business. What's more is that the game has epic blockbuster set-pieces designed using the Frostbite 2.0 engine, so players won't just be traversing through the city streets, wide open country roads or winding mountain passes without a bit of some physics-based challenges to overcome.
And being that EA won't let anyone else use Porches in their game, you can get exclusive access to the all new 2012 Porches Carrera S and Lamborghini Aventador. You can pick up a copy of Need for Speed: The Run for Xbox 360, PS3 and PC for $59.99 from local retailers. To learn more about the game be sure to visit the Official Website.
Staff Writer at CinemaBlend.
Your Daily Blend of Entertainment News
Thank you for signing up to CinemaBlend. You will receive a verification email shortly.
There was a problem. Please refresh the page and try again.