Ninja Gaiden: Razor's Edge Coming To Xbox 360, PS3 This April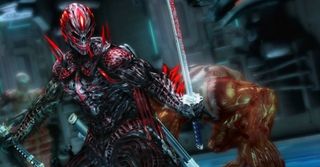 The Wii U exclusive won't be much of an exclusive anymore once spring gets into full bloom. Tecmo Koei announced today that the hack-and-slash action title, Ninja Gaiden: Razor's Edge, will be arriving for Sony and Microsoft's current-gen systems this April at both retail and digital distributors.
Koei announced that the game will ship on the first week of April for the PS3 and Xbox 360. Meaning North Americans will get hold of the game on April 2nd and Europeans will get hold of the game on April 5th.
Yosuke Hayashi, Team NINJA leader commented about the transformation of their game from an exclusive platform title to a multiplatform, dismemberment-rich fan-service hack-and-slash action game, saying...
Perhaps, this will be a true throwback to the best entry in the series so far, Ninja Gaiden Black?
The game, for Xbox 360 and PS3, will have fewer quick-time events and a much stronger focus on manual combos and skill-attacks. Dismemberment will come back in full force after being muted for Nintendo's console. Tougher enemy AI and a new skill upgrade system will round out the new features for the title.
You can look for the game to go full-ninja this April for your core-console of choice, assuming you didn't already buy it for the Wii U. You can drop a comment or feedback on the multiplatform change over on Team Ninja's official page.
Your Daily Blend of Entertainment News
Staff Writer at CinemaBlend.