Nintendo 30th Anniversary Games Release Dates Announced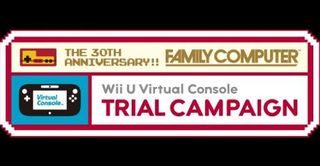 It was announced during the Nintendo Direct presentation last week that the Big N would be celebrating its 30th anniversary in gaming with seven classic games being made available through the Virtual Console for just $0.30 a pop. While the original release windows only gave us a vague idea of when each game would be made available, Nintendo has now put an exact date on each title.
You've got to love video game publishers. They're one of the only entities out there who celebrate birthdays by giving everyone else presents. This year, the Nintendo Entertainment System turns 30 and, to celebrate, the publisher is all but giving away a collection of seven games from the NES and SNES era. The NES doesn't actually turn 30 until July 15, which is why the promotion will run between now and then.
While the Virtual Console isn't fully launched on the Wii I just yet, Nintendo promises that the service will be chugging along steadily by spring of this year. The games being offered for the 30th anniversary are just a sampling of the types of games you can expect to see more of. Or, if you already have a Wii, then you pretty much know exactly what you can expect.
As a reminder, each of these titles will be available for $0.30 for 30 days following their launch, so you'll want to be sure to buy them pretty quickly if you don't want to risk missing out.
Balloon Fight kicked things off last Wednesday, Jan. 1, and will be available through Feb. 21. F-Zero will be available Feb. 20 through March 21 while Punch-Out!! Featuring Mr. Dream will be up from March 20 to April 18.
The fourth game release will be Kirby's Adventure from April 17 to May 16. Super Metroid will hit the scene from May 15 to June 13. The last two games will be Yoshi (June 12 through July 11) and Donkey Kong (July 15 through August 13).
Staff Writer for CinemaBlend.
Your Daily Blend of Entertainment News
Thank you for signing up to CinemaBlend. You will receive a verification email shortly.
There was a problem. Please refresh the page and try again.