Nintendo's Spring Sale Discounts Pikmin 3, Captain Toad And More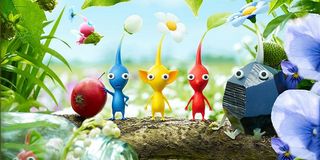 Spring is in the air and, for Nintendo, that means it's time for some cheap gaming. Nintendo's Super Spring Sale includes nearly 20 discounted 3DS and Wii U titles.
According to Nintendo's official announcement, the Super Spring Sale will run through 8:59 a.m. PT on April 20. So, you've got a couple of weeks to peruse these deals, check your bank account, and make some purchasing decisions. Games are being offered for up to 30 percent off, including Virtual Console titles and digital versions of retail games.
First up is the 3DS. To enjoy these discounts, simply boot up the eShop, head to the "Super Spring Sale" tab and start downloading. Here are the details:
Kersploosh! ($2.09)
Kirby: Triple Deluxe ($24.49)
Mario Kart 7 ($20.99)
Mighty Gunvolt ($2.79)
Siesta Fiesta ($3.99)
Super Mario Bros.: The Lost Levels ($3.49)
Tetris Ultimate ($13.99)
Tomodachi Life ($24.49)
Woah Dave! ($3.49)
Those first-party titles are obviously worth it, because they're cheaper and Nintendo doesn't really make bad games. I've actually heard great things about Tomodachi Life, but I've never been able to convince myself to pick it up. Maybe that $25 price tag will help change my mind. Also, Mighty Gunvolt is a heck of a lot of fun. Though, it's pretty short. Paying just three bucks for it is a no-brainer.
Next up, let's take a look at what Wii U players have to look forward to in the Super Spring Sale:
Once again, there are a couple of nice first-party games being offered, including the critically beloved Captain Toad and Pikmin 3. Chariot is also a really fun cooperative game and Golden Sun is one of my favorite RPGs of all time.
Nintendo isn't exactly known as the king of sales, so you might want to jump on these opportunities while the getting is good. Both consoles could to be entering a dry spell in the new release department, so building up a backlog will help get you through the slower summer months. Also, it's really difficult to argue against great games at cheaper prices.
So, let's hear it: Is there anything in Nintendo's Sale that's catching your eye? Anything from this list you'd like to recommend to your fellow gamers that we may have missed out on? Give us a heads-up in the comments.
Your Daily Blend of Entertainment News
Staff Writer for CinemaBlend.
Your Daily Blend of Entertainment News
Thank you for signing up to CinemaBlend. You will receive a verification email shortly.
There was a problem. Please refresh the page and try again.