Oddworld: Stranger's Wrath 2 Or Abe's Exoddus HD? It's Your Choice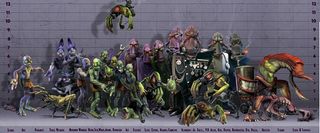 Like a weird, green, lanky phoenix rising from the ashes, the Oddworld franchise has once again found relevance on the current generation of consoles thanks to re-releases of classic games and a handful of HD remakes. Now that the masses are hungry for more of Abe and his bonkers cast of friends, the folks over at Oddworld Inhabitants are asking fans to help decide which game they will make next for the series.
Oddworld first strutted onto the scene back in 1997 as Abe's Oddysee for the PSX, a platforming puzzle game unlike anything else on the market at the time. The franchise continued with Abe's Exoddus a year later, but then did not return to the scene until 2003 when Munch's Oddysee hit the original Xbox as an offshoot to the series. The Oddworld series was originally supposed to be played out in five parts, but Oddworld Inhabitants never actually got back to picking up that thread. After Munch came Stranger's Wrath for the Xbox, a collaboration with the team at Just Add Water and taking the series in a bold new direction, namely to the genre of first-person shooter.
Back in 2005-2006, you can find a few magazine articles and web postings discussing The Brutal Ballad of Fangus Klot, the next planned game in the series that was ultimately canned. From there, Oddworld disappeared without a trace, until last year when the developers at Oddworld Inhabitants and Just Add Water teamed up once more to bring out HD remakes of Stranger's Wrath and Munch's Odyssey. Just Add Water has announced that a "New and Tasty" HD remake of the original Abe's Oddysey is slated for later this year but, after that, the sky is pretty much the limit.
As a result, Oddworld Inhabitants have turned to the fans to help decide which game they will create next, and the list is pretty dang long. Games include an HD remake of Abe's Exoddus, the abandoned Fangus Klot project, a sequel to Munch's Odyssey or Stranger's Wrath, a "completely new" game set in the Oddworld universe, a mobile title, or three mysterious offerings including Squeek's Oddysee, The Hand of Odd and Sligstorm.
A completely new IP and Abe's Exoddus HD are currently neck-and-neck at the top of the standings. You can cast your vote and help direct the future of Oddworld by heading to the Oddworld Inhabitants official website.
Staff Writer for CinemaBlend.
Your Daily Blend of Entertainment News
Thank you for signing up to CinemaBlend. You will receive a verification email shortly.
There was a problem. Please refresh the page and try again.