One Of The Best PC Horror Games Is Free Today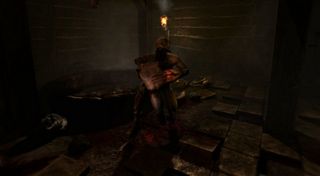 Frictional Games announced that Amnesia is free today. You can pick up the game right now from Steam at no charge and have it added to your library. All you have to do is log into your Steam account and click the "Install Game" button on the Steam store page.
You can head to the Steam store page and you'll see a brief notice on the game's buy button, which has been replaced with an "Install Game" button. The notice reads...
And by "today" they mean September 15th.
It's very interesting because usually they have free weekends but not free game days. Could it be that some developers are stepping up their game and going the completely free route for their titles? It seems like it may not end well given that it would be a race to the bottom as a bunch of developers try to out-free each other for premium games. Then again, this could just be a one-off since Frictional Games is prepping for the release of their upcoming underwater horror game, SOMA.
In fact, they do make it known that Amnesia isn't the only game on sale from the indie studio's catalog. They mention in a tweet that the rest of their games on Steam are 80% off at the moment in celebration of SOMA's release coming very soon.
For people unfamiliar with Frictional Games' titles it's not a bad way to get introduced to them... for free.
In fact, after the tweet went out just two hours later they announced that more than 2,000 people had scurried off to Steam to grab a free digital copy of Amnesia. The announcement and subsequent stampede onto Valve's digital store actually caused Steam to slow down by a great deal. Heck, just getting to the Amnesia page required several refreshes due to all the of the traffic bogging down the service.
As for the game itself... Amnesia is a horror-adventure game where you explore a seemingly abandoned mansion. The game plays some serious mind games with players, as one of the core objectives is to stay out of the darkness by any means necessary. Getting bogged down in darkness causes the player character to become unhinged. This is coupled with the fact that there are monsters roaming the halls and it's necessary to run and hide to avoid being killed.
The game has a truly frightening atmosphere and you haven't played the game already you'll definitely want to check it out if you enjoy horror titles.
Personally Amnesia wasn't really my kind of game but SOMA looks like it's a nice improvement on Frictional Games' previous outings, including the sequel to Amnesia called A Machine For Pigs.
You can grab a free copy of Amnesia right now as you prep for the September 22nd release of SOMA.
Staff Writer at CinemaBlend.
Your Daily Blend of Entertainment News
Thank you for signing up to CinemaBlend. You will receive a verification email shortly.
There was a problem. Please refresh the page and try again.