Outlast, PS2 Classic Trapt Headline Weekly PSN Update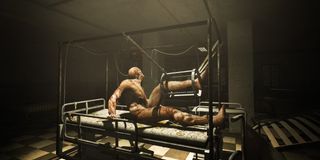 Holy crow, it's another jam-packed week on the PlayStation Network with all three main platforms getting some digital game love in the form of brand new releases, old school classics and even a handful of demos for those who like to kick the tires before jumping in for a joyride.
As we revealed last week with the list of upcoming game releases for 2014, February and March are already going to be pretty packed months. That doesn't seem to be slowing Sony down, though, as this week's lineup of new releases on PSN is pretty hefty. And there's a little something for everyone, too, including white-knuckle platformers, strategy, racing, some family-friendly Lego fare and even one of the best recent reasons to hide under the covers for the rest of your life in the PS4's new game, Outlast.
You may remember Outlast from yesterday's Plus announcement, meaning that this brand new offering for Sony's latest home console can be had free of charge on day one for those of you subscribing to the service. Outlast is a first-person exploration game that has you conserving batteries and hiding in dark corners from all sorts of nasty monsters in an asylum that appears to reside somewhere on the outer fringes of hell. Can you survive long enough to discover the facility's secrets and make it out alive? Find out today when the PlayStation Network update goes live.
While that'll about do it for the PS4, both the PS3 and Vita have a nice collection of new games up for grabs this week. On the PS3, Adam's Venture Chronicles offers up some classic adventure gameplay with more than 60 puzzles for players to solve. And then there's Dustforce, the over-the-top indie platformer featuring ninja janitors on the PS3 and Vita.
King Oddball is a physics-based destruction game popping up on the Vita this week whle The Lego Movie Videogame brings its unique blend of building, platforming and humor to all Sony Consoles at a slightly later date than normal, this Friday.
Surge Deluxe will keep fast-paced puzzle fans happy on the Vita while Truck Racer will provide some big rig racing action set across four modes and 48 tracks, complete with online and couch multiplayer.
Finally, a couple of blasts from the past will be up for grabs this week in the form of two PlayStation Classics, including action game Gex: Enter the Gecko from the PSOne, and the strategic and devious Trapt for the PS2, predecessor to the upcoming Deception IV.
King Oddball, Ethan: Meteor Hunter and Dustforce will offer up demos this week while the online beta for Ace Combat Infinity will arrive on the PlayStation 3, too, giving gamers a chance to experience free-to-play dogfights in some of the fastest aircraft known to man.
Staff Writer for CinemaBlend.
Your Daily Blend of Entertainment News
Thank you for signing up to CinemaBlend. You will receive a verification email shortly.
There was a problem. Please refresh the page and try again.