Overhaul Games Want To Do A PlaneScape: Torment HD Remake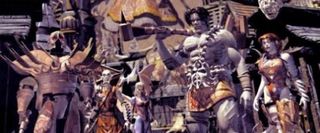 Overshadowed by the more popular Baldur's Gate, PlaneScape: Torment came out in 1999 to critical success but didn't quite make it as a commercial success. Much like Baldur's Gate, PlaneScape ran on the same game engine and was even worked on by the same team, Black Isle Studios. The isometric RPG's dark story and unique protagonist has since become an iconic cult classic in the inner circles of video game media, and one team wants to go back and resurrect this fan-favorite title.
Overhaul Games, currently working on the Baldur's Gate: Enhanced Edition for mobile devices, want to get back to their roots and also work on an enhanced HD remake of PlaneScape: Torment.
Some of the team members of Overhaul Games actually did some work on both PlaneScape and Baldur's Gate, so they have some familiarity with both titles. And according to GameBanshee Overhaul tweeted the following comment, saying..." We want to do Planescape: Torment after the BG series."
So there you have it, fans of the old-school PlaneScape: Torment can look forward to an enhanced edition, maybe. We'll just have to see after the two Baldur's Gate games land on mobile devices.
Overhaul also has the longtime ambition of finally getting around to Baldur's Gate III, possibly funded through KickStarter. But for now they're just working on getting those HD remakes out and about to the marketplace.
You can learn more by paying a visit to the Official Overhaul Games Website.
Your Daily Blend of Entertainment News
Staff Writer at CinemaBlend.