Override Is The Pacific Rim Game You've Always Wanted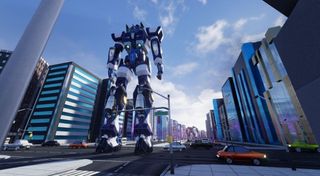 Imagine hopping into a mech, strapping in, powering up the central core, and then proceeding to unleash more than a 100 megatons of badassery on anything that stands in your way. If that sounds like the joyride of your life then you're probably already excited about The Balance Inc's upcoming, physics-based mech combat game, Override.
The game is a love letter to the classic Japanese-style mecha icons that have helped shape the popular media culture surrounding giant robots and invading alien species. The team pulled some inspiration from classics like Evangelion, Gundam, Patlabor and... of course, Pacific Rim.
The game is actually very similar to another physics-based robot game that legendary Nintendo developer Shigeru Miyamoto has been working on for the Wii U that allows you to customize your robot and go into battle against other robots. The different between both games is that Override is all about causing massive destruction and having fun with the physics system in the process.
Oh, and the reason the game looks as good as it does is because it's running on Epic Games' Unreal Engine 4. The title has been in development since June of this year and is seemingly described as a project of passion.
The basic premise and objective of the game is described rather succinctly over on the Steam Greenlight page, noting...
I love the idea of getting friends together and going around the town blasting things to smithereens or curb-stomping a rival mech.
The only thing that would make this game even more awesome is if it's possible to face down against some righteous kaiju. Could you imagine the sort of cool battles you could recreate with some proper mod tools and Steam Workshop support?
Well, before we can even discuss what's to come down the pipeline, the game first has to get greenlit for release on Steam. So you'll need to show some love toward Override over on the Steam Greenlight page.
Additionally, the game still needs to hit its Kickstarter goal of $98,000. Right now they only have $3,275 funded, but they just got started and still have just over a month to go before the deadline. So there's definitely time to grow.
If you like what the game features and you want to see this bad boy become a reality you can learn more about the project or contribute what you can by visiting the official Kickstarter page.
Staff Writer at CinemaBlend.