Puzzle And Dragons Gets Collaborative With Neon Genesis Evangelion Content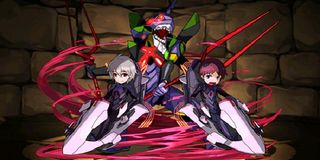 If you're a Puzzle & Dragons fan and a lover of classic anime, then you'd probably be interested in knowing that the hugely popular mobile puzzle combat game has officially launched special content that ties in to Neon Genesis Evangelion. Neither property really has anything to do with the other, but are you really going to complain about adorable mini mechs battling alongside adorable mini dragons?
GungHo Online Entertainment established this new partnership in honor of the Rebuild of Evangelion film series, making it the latest of several cross-over events for the successful mobile game, Puzzle & Dragons.
"Collaborations are part of GungHo's strategy to add new content to the game's addictive combination of puzzle, dungeon-carwling and monster collecting gameplay," reads a statement from GungHo. "Puzzle & Dragons continues to see tremendous growth and has surpassed 29 million downloads worldwide."
It's appropriate, then, that the game be paired with one of the most beloved anime of online.
"Neon Genesis Evangelion became an instant pop culture phenomenon with the release of the original animated TV series in 1995, with the project soon branching out into comics, films, video games and other media," continues the statement. "The Rebuild of Evangelion film series launched in 2007, with three installments released to date."
The third in the series, Evangelion: 3.0 You Can (Not) Redo, launched just last year and brought in more than 5.2 billion in box office revenue. The fourth and final film in the series is due out next year.
As for the Puzzle & Dragon crossover, players can expect a three-pronged attack of additional in-game content, beginning with an Eva themed dungeon where players will face off against nine mysterious Angels, the giant monsters that plague the world of the anime series.
The add-on will also include a special EVA-01 shaped rare egg machine, which give you special items including Evangelion characters like Shinji, Rei, Asuka, Mari and Kaworu, all standing alongside their various Eva units.
Finally, the update features new Awoken skills and Ultimate Evolutions, which will be provided for certain collaboration characters.
For those unfamiliar with the game proper, Puzzle & Dragons allows players to collect and evolve hundreds of elemental creatures in order to utilize them in a gem-busting battle system that allows for special abilities and evolutions to help turn the tide in your favor. Thing something like Bejeweled with a few extra tweaks to make the gameplay and time spent between puzzles more interesting.
Sound interesting? Read up on the game or download it free of charge for your mobile device via the game's official Facebook page.
Your Daily Blend of Entertainment News
Staff Writer for CinemaBlend.