PC Game Sales Top $18.6 Billion In 2011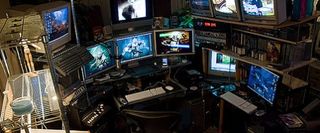 New marketing data has surfaced indicating that the PC digital market is alive and well, and PC gaming has never been financially bigger than it was in 2011. Hence, all the talk about piracy killing PC gaming is a straight-up lie.
Techspot reports on the marketing data released from PC Gaming Alliance hinting at strong quarterly profits across the digital PC platform, totaling $18.6 billion last year and making it a record year in total PC game sales. Casual gaming giant Zynga bit off a sizeable chunk of that totality with a $1.1 billion dollar revenue stream for 2011 alone. Nice.
China brought in the largest piece of the pie with $6 billion in 2011, mostly thanks to the fast-emerging free-to-play market that has taken the industry by storm over the last half-decade. Previous marketing reports only estimated that the year-end tally of the free-to-play market was worth around $5 billion, but it looks like China proved them wrong.
According to the official report...
One of the other big factors in the strong sales of PC gaming (outside of the casual market, of course) is Steam. According to an article on Forbes, fan-favorite software company Valve is estimated to be worth around $3 billion, and has seen continual growth thanks to the digital distribution platform, Steam. While not everyone agrees about having Steam on their system most people agree that Valve's consumer first policy has helped them to elevate to the level of where they are now.
The PCGA also agrees that it's the online markets and ease of digital distribution that has helped PC gaming thrive in such a harsh economic climate, despite the fact that retail PC gaming is dying...unless you're Kalypso Media or Remedy Entertainment.
Your Daily Blend of Entertainment News
Staff Writer at CinemaBlend.