PLAY Promotion Brings Four New Games To PSN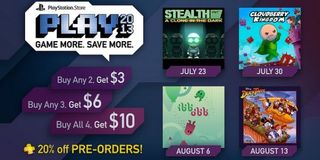 Every summer, the PlayStation Store PLAY promotion gives four brand new titles the spotlight while offering a little PSN cash in return for customers who support said games. This year's offerings include a stealthy bastard, a bastard of a platformer, a co-op romp and freaking DuckTales, wooo-ooo!
Just like in previous years, the PLAY promotion offers a few nice perks for buying these new games, according to the PlayStaiton Blog.
"If you pre-order any of this year's PLAY games, you will get an exclusive PS3 XMB theme based on each game purchased," reads the post. "In addition, if you are a PlayStation Plus member, you will receive a 20 percent discount on PLAY games when pre-ordering."
Finally, if you grab two or more of these games throughout the promotion (July 16-August 20), you'll also get yourself a nice little return on your investment in the form of PSN vouchers you can spend on anything within the store. Buy two PLAY games and you'll get $3 back. Buy any three games and you'll get $6 back. Buy all four games and you'll get $10 back. That last option basically means you'll be getting one game for free, in case you're having trouble deciding whether or not to pull the trigger on the whole kit and caboodle.
But a promotion is only as good as its games and, this year, the PLAY offerings look to be a pretty good collection. The promotion goes live tomorrow, allowing you to take advantage of that whole pre-order aspect of the deal nice and early. Games start going live the week after.
The PLAY promotion really gets rolling on July 23 when Stealth Inc: A Clone in the Dark arrives for the PS3 and PlayStation Vita. Formerly known as Stealth Bastard when it was originally released on PC, you're looking at basically the same game, complete with a level editor and Cross-Buy, meaning you can pay for it once on the PS3 or Vita and get it on the other console at no additional charge. Stealth Inc will set you back $9.99, or $7.99 for PS Plus.
The train keeps rolling on July 30 with the release of Cloudberry Kingdom, the tough as nails platformer that makes that makes a game like Super Meat Boy look like a walk in the park. Levels are randomly generated, there's co-op for up to four players and more than 10 character types to play and unlock. Cloudberry Kingdom is also $9.99, or $7.99 with PS Plus.
On Aug. 6, ibb & odd arrives on the PS3, bringing with it a own unique blend of two-player cooperative action in a world full of puzzles and fun. As with the previous two games, ibb & odd will be $9.99, or $7.99 with Plus.
Finally, the PLAY promotion wraps up on Aug. 13 with the PS3 release of DuckTales: Remastered. The 8-bit masterpiece has been rebuilt from the ground up with improved sound, graphics and more. Join Scrooge McDuck and his whole family on an adventure around the world for $14.99, or $11.99 with Plus.
Your Daily Blend of Entertainment News
Staff Writer for CinemaBlend.