PS4 Adds Two More Indie Games To 2014 Lineup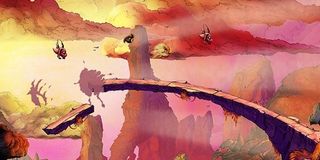 Two more indie games were announced for PlayStation consoles this week, including a tough-as-nails platformer for the PS4, Fenix Rage, and an intriguing puzzle platformer, Aaru's Awakening, slated for release on the PS4 and PS3.
First up is Green Lava Studios' Fenix Rage, introduced on the PlayStation Blog by developer CEO, Eduardo Ramirez. Fenix Rage actually began life in a more simplified form for Google Play, according to Ramirez, helping provided the "backbone" for the latest iteration of the game, slated to hit the PS4 sometime this year.
According to Ramirez, Fenix Rage takes a lot of the mechanics he and his team have enjoyed from gaming's past and plugs them into a new formula.
"As gamers our entire lives, we had a lot of inspirations when creating Fenix Rage," he said. "We were—and still are—big fans of Sonic the Hedgehog, and that influence is seen with Fenix's dashing attack, as well as some of his animations when near an edge of a platform."
As for the game's sharp edges and bright colors, Eduardo Ramirez said the team was actually inspired by Mike Mignolia's Hellboy, along with an old-school cartoon that about five of you will recognize, SWAT Kats.
Add all of that up and you're left with a brand new platforming roller coaster for the PS4, Fenix Rage.
Next up on the new game lineup is Aaru's Awakening, a game coming from Lumenox ehf that puts a whole new spin on the platforming genre, namely constant teleporting.
Once again, we're looking at a game with humble beginnings, starting out as a school project and later evolving into a title that set to release on the PlayStation 3 and PlayStation 4 this summer.
"When implementing the teleportation mechanic, we were focused on having it deeply intertwined with the gameplay, not just having it as a gimmick," said Lumenox ehf Marketing Director, Johann Ingi Gudjonsson. "So we designed each level with the mechanic at heart. That's why we create each level with puzzles and zones that can only be solved and reached with the help of the teleportation function."
To see the teleportation in action, check out the video below. Otherwise, look to see Aaru's Awakening popping up on the PlayStation Network sometime in the next few months.
Staff Writer for CinemaBlend.
Your Daily Blend of Entertainment News
Thank you for signing up to CinemaBlend. You will receive a verification email shortly.
There was a problem. Please refresh the page and try again.